For the first time since Tessa met Dastien, life is quiet. The evil witch, Luciana, is six glorious feet under, St. Ailbe's is closed due to human trespassers, and people are finally getting used to the fact that supernaturals exist in the world. It seems like the perfect time for a honeymoon.
Description:
For the first time since Tessa met Dastien, life is quiet. The evil witch, Luciana, is six glorious feet under, St. Ailbe's is closed due to human trespassers, and people are finally getting used to the fact that supernaturals exist in the world. It seems like the perfect time for a honeymoon.
Tessa and Dastien's trip to the Caribbean is turning out to be the honeymoon that fantasies are made of—sunset cruises, long walks on the beach, and every romantic cliché you can imagine. She couldn't be happier. So, when a local man turns up inexplicably dead on the beach, Tessa brushes it off. Not every bad thing that happens in the world is a supernatural mystery to be solved. And when Sebastian—one of the Council of Seven Alphas who rule all the werewolves—appears on the island, she thinks it must be a coincidence. Everyone needs a break now and then. Even council members. Right? Besides, Tessa is beyond determined to not let anything get in the way of her romantic vacation.
But when Dastien goes missing, the honeymoon is most definitely over. Tessa can't ignore the signs anymore. Something huge is going on. And whoever messed with Tessa's mate is in for a rude awakening. Because if there's one thing fighting rogue witches and werewolves has taught her, it's how to be Alpha.
Writing is such a fun job and getting to write a series is even better. I love getting to explore the characters over the course of the books. Seeing them grow and change as they face challenges is what makes these characters interesting to write, and what I hope brings readers coming back to the series. With the spin off books—Bruja, Shattered Pack, and (just announced) Lunar Court—I've been lucky to be able to explore some of the "side" characters in the series.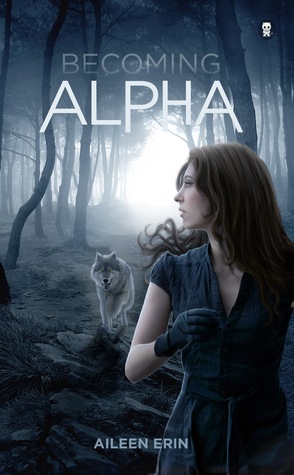 Tessa has changed a lot through the course of her five books. When the series started, she was a loner. An outsider. She didn't fit anywhere. She wasn't overly worried about it, because that's how it'd always been, but she didn't necessarily love it either. She'd just moved to Texas and was trying to find a way to make friends. And it was working. Until Dastien bit her…
The course that Tessa's character takes from Becoming Alpha to Being Alpha is described a bit by the titles. She was a bit of a fish-out-of-water in Becoming. She had to find her new normal as a werewolf with visions. In Avoiding Alpha, she learned what it meant to be a friend to someone and to sacrifice. She had to give a bit of herself to save Meredith. She had to let go of what she was and in the end, shifted. It was scary for her. Terrifying even. She didn't know what was going to happen when she shifted, and giving up that last little bit of her human side was hard. But she did it for her best friend. And in the end, she was glad she did it.
In Alpha Divided, she was separated from Dastien, who had become someone she could lean on. She had to learn more about her witch-side. That would've happened naturally if Dastien hadn't stepped in—for better or worse—and changed the course of her life. But she also learned some hard lessons about protecting herself. About sacrifices she shouldn't have made. It was going to come to war with Luciana, regardless of what Tessa did, but she couldn't—or wouldn't—see that writing on the wall. Dastien did. That's why he was so scared. Why he went feral and had to be locked up. And the cost she paid for that mistake was very high. She's still paying it in Being Alpha.
In Alpha Unleashed, she's finally coming into her own. Tessa has her powers back. She's been through the wringer, but she's determined to come out of it stronger. And she is. She's also gained the trust of a lot of Alphas. She's ready to fight, and she wins!
In Being Alpha, Tessa struggles with what's in store for her future. She's a strong witch and was the next in line to lead a very powerful coven. She's an alpha werewolf—a very strong alpha who could become a very strong leader of a pack—and make herself an Alpha. But she struggles with that idea. With the responsibly of what that means. The fact is, she didn't ask for this life. She didn't sign up to be a werewolf. At the end of the day, she still would like to be curled up at home, reading a book, living a quiet life. But that's not what life has in store for her. So, she has to decide how far she's willing to take the leadership role. I don't want to spoil anything, but it's huge what she does by the end of this book. She changes the supernatural world for the better.
For Dastien, he's travelled on the journey with Tessa. He's been by her side—fighting, loving, supporting—in every way he can. He's a very strong alpha, too. Will probably grow into one of the most powerful of all-time. But for the course of the series so far, he's had to learn to step back and let her lead. To help her become who she is and let her learn her place in the supernatural communty—which is key to the future of everything.
Claudia's star got to shine in Bruja. She'd been trapped by a fierce blood oath to an evil witch, and she gets to break that oath and finally have her own adventure in Bruja. She goes from being quiet and passive, to standing up for herself. In Being Alpha, you get to see that a bit more. I hope to continue her story soon! Because she still has that pesky promise she made to Gobble…
Meredith had a massive change from
Becoming Alpha
to
Shattered Pack
. She was cursed and unable to shift to her wolf form. She was ostracized by her community and almost died. Meeting Donovan was life-changing, but she was too scared—her self-confidence totally ripped to shreds by the curse—to let herself be loved by him or accept his bond. In Shattered Pack, she relearned her self-worth. She found out that her specific knowledge and skill set was actually a great help to Donovan. And even though she wasn't as alpha as him, she was just as strong.
Chris' journey is going to be big. MASSIVE. I can't wait to write it. Readers will get a tease of what's to come for him in Being Alpha. ;)
I don't think trends in YA, paranormal/fantasy have influenced the series, but life has. I love the story of a person coming into their own. Of people reaching their lowest point and finding that hidden inner strength that gets them through their problems. Because that's life. It's hard—whether it's normal, every day things or fighting evil witches. And we all have to find the strength inside to get up every day and take our place in the world.
Aileen Erin
is half-Irish, half-Mexican, and 100% nerd–from Star Wars (prequels don't count) to Star Trek (TNG FTW), she reads Quenya and some Sindarin, and has a severe fascination with the supernatural. Aileen has a BS in Radio-TV-Film from the University of Texas at Austin, and an MFA in Writing Popular Fiction from Seton Hill University. She lives with her husband in Los Angeles, and spends her days doing her favorite things: reading books, creating worlds, and kicking ass.
Author's Giveaway