"India's aromatic spices are sprinkled into dishes according to taste, added carefully to lend a personal touch. Cardamom, cinnamon, cloves, coriander, cumin, and ginger. These are a few of the earthy spices, and perhaps most sensual in the world, that are found in India."- GP
Some accidents are meant to happen…
Dr. Rihaan Mehta is a brilliant young neurosurgeon who has no inclination for love or marriage. According to him wives and girlfriends are annoying accessories that one can do without. But when his mother dangles the sword over his head in classic Bollywood style, he succumbs, and sets out in search of a bride who would fit his 'requirements'. But can Rihaan deal with what he gets instead?
It is one thing to prepare food for ourselves because we need to eat. It's mealtime, we're hungry, what do we have in the cupboard? But it is a whole different thing to cook a special dish or an entire feast because we want to shower someone we love with a caring gesture. It is a gift of indulgence that nurtures the soul, as well as the body. A home cooked meal that has been specially prepared for us, by someone else, can be one of the ultimate expressions of love.
How do we choose the perfect culinary delight to prepare when cooking for others? We might choose to cook our own favorite recipe or we might choose a selection of our guest's favorite foods. A shopping trip to pick out fresh, vibrant ingredients is part of the delight. In India the menu might include pakora (a warm fritter), curry, tandoori, naan, or just a simple upma (porridge).
India's aromatic spices are sprinkled into dishes according to taste, added carefully to lend a personal touch. Cardamom, cinnamon, cloves, coriander, cumin, and ginger. These are a few of the earthy spices, and perhaps most sensual in the world, that are found in India. Spices are also available already blended together for ease of cooking (for those cooks who might want to achieve a well-known flavor) such as Garam Masala or Curry.
The fragrant smell of Indian cuisine, with hints of exotic herbs and spices promise to stir emotions deep in our hearts. Pakora and upma are two of the dishes enjoyed in The Accidental Wife.
Want to learn more about Indian Spices? Visit
Spices Board India
"Oh My God! I suddenly remembered I am hungry! Have you had breakfast?" she asked, suddenly looking annoyed.
"Breakfast? No. But I don't have any time." He peeked at his watch again.
"Please!? Not a speck of grain has entered my stomach since yesterday morning. I will die of hunger, then I won't be of any use to you at all." She smiled again before heading toward what Rihaan assumed was the kitchen.
"I can make phataphat upma in just ten minutes!" she said peering at him through the open door frame. "Meanwhile you can relate your troubles to me. C'mon spill it. Don't be shy!"
Rihaan stepped into the tiny kitchen to find it dwarfed by his lanky frame. Folding wiry arms across his chest, he leaned gingerly against the wall and watched as she went about her task in a haphazard fashion. Her attempts at putting on a show of neatness and method were failing hopelessly.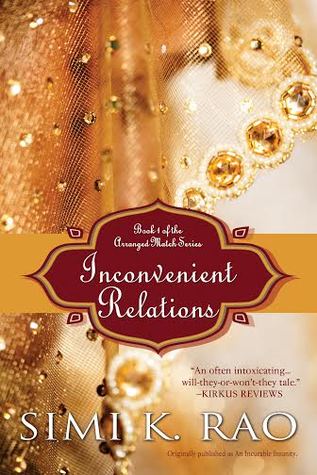 Shaan Ahuja found himself bowing to tradition and agreeing to an arranged marriage to the beautiful Ruhi Sharma. He went through the motions but had no intention of carrying through on his vows. His last foray into matters of the heart with an American girl had left him scarred and unwilling to try again. Thoroughly disillusioned and disgruntled he wasted no time in making his intentions clear to Ruhi on their wedding night. But, he was completely unprepared for what his new wife had in mind.
This multi-cultural contemporary romance story of an arranged marriage is a beautiful blending of showing the Indian and American cultures. Readers will learn more about the Indian heritage and the romance that happens behind closed doors in an Indian relationship in Simi K. Rao's Inconvenient Relations. This coming of age story about true love explores multi-cultural issues.
Inconvenient Relations is Free on 19th - 23rd of March
Simi K. Rao was born and grew up in both northern and southern India before relocating to the U.S., where she has lived for several years. Inconvenient Relations is her first published novel.
The inspiration for this book, and her other projects, comes from her own experience with cross-cultural traditions, lifestyles and familial relationships, as well as stories and anecdotes collected from friends, family and acquaintances.
Rao enjoys exploring the dynamics of contemporary American culture blended with Indian customs and heritage to reflect the challenges and opportunities many Indian-American women face in real life.
Much of Rao's down time is devoted to creative pursuits, including writing fiction, poetry and photography. She is an avid traveler and has visited many locations around the world. A practicing physician, Rao lives in Denver with her family.
a Rafflecopter giveaway