Trapped on an island, shipwrecked time travelers struggle first to survive and then--to escape. Elves, dwarves and mortals mingle in a world filled with pirates, political intrigue and magic. Their fates rest in the hands of one young woman, the orphan Lady Alexin
The first volume
in the extraordinary new fantasy trilogy from Joni L. Parker. Trapped on an island, shipwrecked time travelers struggle first to survive and then--to escape. Elves, dwarves and mortals mingle in a world filled with pirates, political intrigue and magic. Their fates rest in the hands of one young woman, the orphan Lady Alexin. Half Elf and sole descendant of a Titan ancestor, she trained as a warrior, to avenge her parents' deaths, unaware that only she has the power to save them all.
Alex takes on her new role
as a Tracker, and she's on the trail of a spy called the Horseman who is in cahoots with the pirates to steal Elfin gold. His trail leads her deep into the pirate stronghold where she finds intrigue and mystery around every corner, and she experiences new aspects of her own gifts bestowed on her by her Titan and Elf ancestors.
When the lives of the two most powerful Elves on Seaward Isle are threatened in a plot by the rogue Elf Mellen, Prince Darin of the Water Elves and Lord Odin of the Tree Elves charge Alex, a young female tracker with a Blood Mission—to hunt him down and kill him, or die in the attempt. Blood Mission puts the fate of the kings and the safety of the inhabitants of Seaward Isle in the hands of a teen-age half-elf warrior. Can Alex survive her mission long enough to discover her own true destiny?
Writing as Therapy by Joni Parker
I'm not sure when I first learned to use writing as a form of therapy, but It was probably during one of my efforts to self-diagnose and treat my depression. It really did help me see my way through difficult times, but once I felt better, I stopped using it.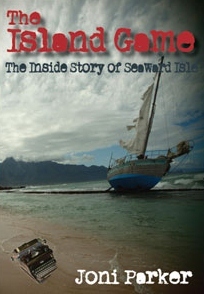 Then, in December of 2000, I found another need for it when I experienced the worst day of my life. My husband went Code Blue. He'd been in the hospital and was due to be released, but something happened and he had trouble breathing. Then he stopped breathing and his heart stopped. For the next month, he was in a drug induced coma with a breathing tube down his throat. I turned to writing. After a few months, my husband passed away and I packed my little journal away. I couldn't even look at the cover without feeling a flood of emotions.
I went on with my life and got a job, but in 2008, a story began circulating in my head, crying for my attention. I was forced to write it down or go crazy thinking about it. I set up an old computer and began typing away. I didn't know what it would lead to, but it didn't matter. After three months, it was done and it was such a relief and great therapy.
Then, I decided to publish it but in order to do that, I had to change and revise it. As I went over my work, it discovered my emotions. I wrote through my tears when my main character, Alex, learned of her parent's death in the first book, The Black Elf of Seaward Isle. In the second book, Tangled Omens, Alex had to deal life on her own, much like my life after my husband. But it wasn't until the third book, Blood Mission, when Alex grieved her parent's death, which allowed me to heal my own grief. It was enlightening.
Joni Parker was born in Chicago, Illinois, but left the windy city at an early age when her family moved to Japan. Upon return to the United States, her family moved to Phoenix, Arizona where she graduated from Camelback High School and began college. However within months, Joni quit college and joined the Navy where she became a Photographer's Mate.
After 3 years in the Navy, she returned to college and got married. She got a Bachelor's degree in Accounting and an MBA before she returned to the Navy. As a Commissioned Officer, Joni attended the US Army Command and General Staff College, completing a Master of Military Arts and Sciences Degree.
She retired from the Navy with over 22 years of service and spent several years traveling the United States in a motorhome with her husband. When he died unexpectedly, Joni returned to work for the federal government in a civil service job. Five years ago, she started writing and retired once more to devote more time to her new passion. She currently lives in Texas.