"Descriptive narrative and dialogue are well constructed in a compelling plot that leads the reader right into the story and keeps them enraptured to the very end." -
Author, Goodreads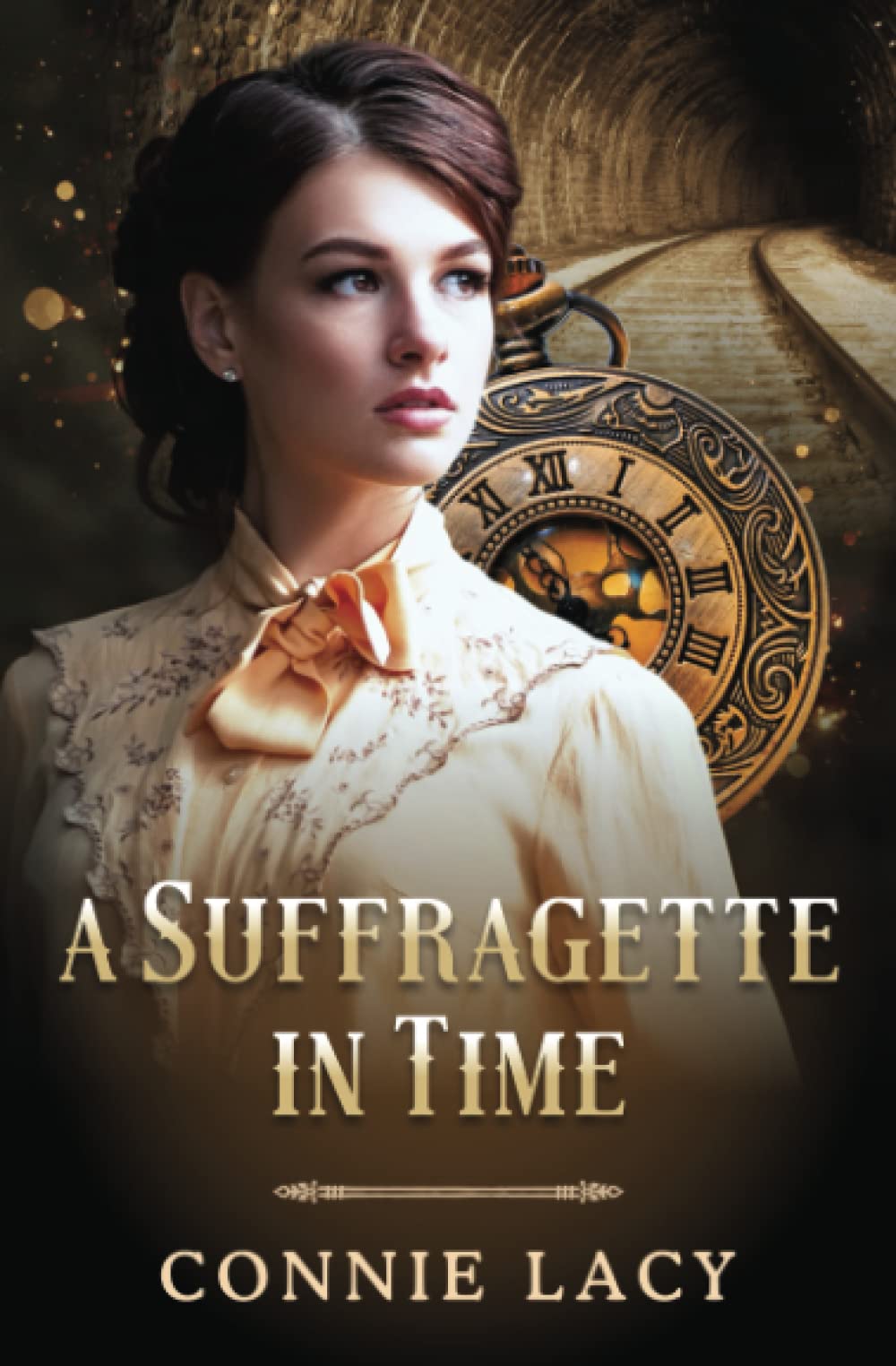 A compelling time travel historical…
Unexpectedly whisked back in time, Sarah Burns transforms herself into a suffragette. Of course, the 1850s isn't the best decade to fight for women's suffrage. But it's safer than being an abolitionist. Or is it?
Living with a family that operates a station on the Underground Railroad, she's dragged into the escalating battle against unscrupulous slave catchers. Sarah musters courage she never knew she possessed, putting her own safety on the line to protect those around her. Including an arrogant abolitionist who dispenses flirtatious smiles while looking down his nose at women's equality.
"A Suffragette in Time" is set against the backdrop of one of the most fraught periods in American history – the decade leading up to the American Civil War.
EXCERPT
Following the strange nightly ritual of brushing her teeth with a frayed birch twig and bicarbonate of soda, she bunked with the two little girls. The three of them shared an old-fashioned full-sized cast iron bed. It was okay for two little girls but rather cramped with Sarah taking up space. Despite sliding a bedwarmer between the sheets before they retired and having a foot stove nearby filled with hot coals, the room was bitterly cold to her modern sensibilities.
That night when Abigail and Rebecca stopped whispering and their breathing became slow and regular beside her, a hush enveloped the house and Sarah felt herself hovering on the edge of sleep. But she was jarred wide awake by the slamming of a door and the sound of urgent voices downstairs.
"This way! Hurry!" It was Mrs. Hammond.
A baby cried. The girls woke up.
"Someone has arrived," Abigail whispered.
Sarah stood up, pulling the top quilt from the bed to wrap herself in.
"We're supposed to stay in bed when this happens," Abigail said.
"When what happens?"
"When visitors come in the night," little Rebecca explained.
Abigail shushed her.
Sarah tiptoed to the door, carefully pulled it open and moved into the hallway. She edged toward the top of the stairs, listening.
"Down to the cellar!" Mrs. Hammond said. "Make haste!"
"I hear horses!" Mr. Hammond said.
"Hang up your coat, Emmett. Sit by the stove with the Bible."
The infant began to cry in earnest.
Sarah eased down the stairs a few steps until she could see Mrs. Hammond guiding a Black woman who was comforting a small baby in her arms, a tall Black man beside her. They were poorly dressed for the freezing weather.
"They must not hear you," Mrs. Hammond said, carrying a candle to light the way. "You can nurse the baby to keep him quiet. Wrap yourselves in the blankets for warmth. Once the patrollers are gone, we'll light the foot stove."
They descended the cellar stairs while Mr. Hammond hurried to make it appear he was studying his Bible. With the hoofbeats growing louder, Sarah tugged the quilt more tightly around her. She was afraid for the Hammonds, but she was terrified for the family about to hide in that tiny underground room. What if the woman smothered the baby rather than allow his cries to give them away? She'd read about mothers who decided heaven was a better place than a life of bondage on a plantation with a cruel master. She shuddered at the thought.
She heard horses out front, then men's voices, followed by loud banging on the door. Mrs. Hammond reappeared then, closing the door to the cellar. She nodded at her husband who rose from the table, set the Bible aside, squared his shoulders and made his way to the foyer. As soon as he opened the door, men pushed their way inside.
Light from a flickering flame was visible on the wall below as the odor of what smelled like resin hit Sarah's nostrils. She couldn't see what happened next but heard everything.
"Where are they?" a rough voice demanded.
"Who are you and why are you barging into our home?" Mr. Hammond asked.
"We're tracking runaway slaves. Lost 'em not far from here. Where are they?"

Connie Lacy
worked for many years as a radio reporter and news anchor, with a couple of brief forays into TV news along the way. Her experience as a journalist shows up in some of her novels. She also dabbled in acting in college and community theater. She uses those experiences in some of her books as well.
Her novels are fast-paced stories featuring young women facing serious challenges set against the backdrop of some thorny issues. She writes time travel, speculative fiction & historical fiction - all with a dollop of romance.
She graduated from the University of North Carolina at Pembroke with a degree in Journalism and Creative Writing. She and her husband live in Atlanta.
Website ** GoodReads ** Twitter ** Facebook ** Instagram ** BookBuzz