18+
"Wow, I loved this, this is a fast paced action packed story tinged with a little sadness. [...] I can definitely recommend this as it is an absolute page turner. I was captivated by the first page and I can't wait to read Moody's story."
Ann L., Goodreads
(#2)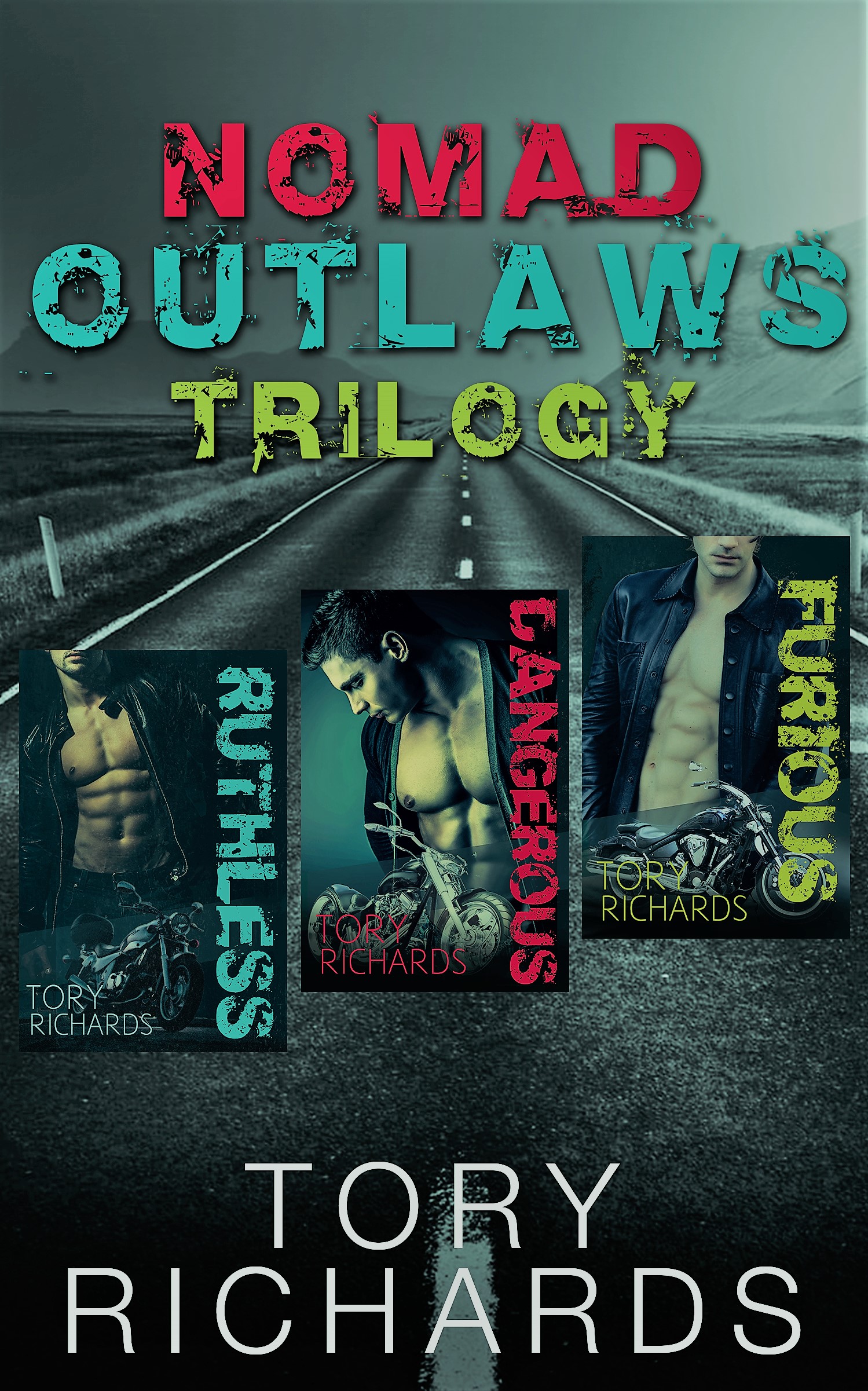 Published: December 1st, 202
1
Outlaw bikers. Nomads. They call no place home. No woman owns their hearts. Until they do. A sexually charged, action packed series with no cliffhangers and HEA.
First time all three books offered in a boxed set!
Get it now before it goes away on 1/1/2022!
Ruthless
Ginger spun around when I shut the door, the look of a trapped animal in her pretty blues. I ignored her growing terror, steeling myself for what I had to do. Even behind closed doors I had to make it real, had to be convincing that I was an unfeeling bastard. I saw her swallow, could see her tits rising and falling rapidly as the fear of the unknown overwhelmed her. She was expecting the worst, preparing herself to do whatever she had to do to survive.
"Take off your clothes." I kept my tone harsh, indifferent to her growing panic.
She shook her head vigorously and stepped back, slamming hard against the cracked porcelain sink. A nervous cry escaped her, and her eyes were wild as she took in her surroundings and realized that there was no escape. Her gaze touched on the door behind me before meeting my eyes.
Dangerous
"Liar!" I whispered sharply down into her face. For a minute we just stood staring at each other in the darkness, listening to the sound of each other's breaths. I swear I saw the glistening of tears fill her eyes. "We're not good men, Luna. You come on to one of these men, let him expect something more, and he'll take it, whether you want to give it up or not. That's their fucking world. Luckily Puck's a little more understanding than most. But if that had been me you were rubbing up on, I would have taken you out back and fucked you up against the wall.
"So, what, this is a warning, Jace? You're the good guy looking out for the innocent, unsuspecting woman?"
"No, baby, I'm not a good guy. I'm worse than any man in there, and you'd do well to stay the fuck away from me."
She yanked her arm away from me and crossed her arms. "I'm twenty-eight years old, Jace, old enough to make my own decisions, and mistakes, if I want to. That's how most people learn," she threw at me in a single breath. "So what makes you think I can't take care of myself?"
I backed her up against the side of the building...
Furious
"Why did you fire me?" I asked after a while. I was genuinely interested in his answer.
He expelled a heavy breath and released me, stepping away. "You don't belong here." His gaze moved down and up my body, missing nothing, and leaving me melting inside. "In spite of how you're fucking dressed."
I slammed my hands on my hips, about to challenge his statement. "What does that even mean?" I snapped in frustration. "How do I not belong here? I'm a good bartender, and I need that job."
He moved to his desk and leaned against the corner. "You're too fucking innocent, and I don't want to have to worry about some drunk trying to get inside your pussy."
I let out a huff. "Do you have to be so crude?" I really wanted to call him a pig. "And I'm twenty-five and not a virgin, so I think that takes my innocence off the table."

About the author:
Tory
Richards
is an Amazon bestselling author in the categories erotic romance and romantic suspense who writes smut with a plot. Born in Maine, she's lived most of her life in Florida where she grew up, married, and raised a daughter. She's now retired and spends her time with family and friends, travels, and writing. Her romances are sexually charged and filled with suspense and some humor.
Website ** Blog ** Goodreads ** Pinterest ** Twitter ** Instagram ** BookBub
Author's Giveaway
a Rafflecopter giveaway