"Cursed Hearts is a sci-fi novel by Clayton Barnett. It is a tale of love, kinship, and violent destruction in the wake of a complex genetic experiment gone awry. [...] Absolutely loved it."
Dax Muro, Goodreads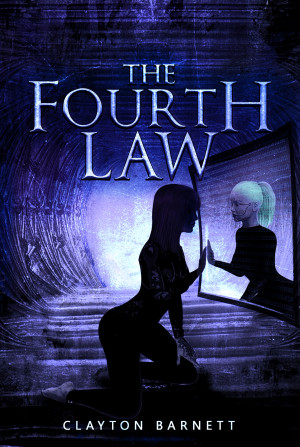 Description:
A history beginning in our near future, these stories are set in a world where the US dollar has been displaced as the world's reserve currency, prompting its economic and political collapse, with a few areas able to hold onto civilization.
At the same time, across the Pacific, under a resurgent economy brought about by the implementation of new technology and deregulation, three Japanese companies produce breakthroughs in both artificial intelligence and robotics. These newly made people exhibit an odd interest in the goings-on of the former United States.
To-date, my chronicling of this interest of theirs has led to stories that populate five novels, which I would like to share with everyone now!
The Fourth Law - In the near future, 23-year-old apprentice nurse Lily Barrett lives in a shattered time. Following its economic collapse, the US has devolved into a group of a few barely functional smaller states and vast swathes of barbarian badlands. His sister has been missing for years, and her father, after earning the opprobrium of most of the world for running a state terror organization, presumed dead.
Two things keep her going: her live-in job at a small, Catholic orphanage in the city of Waxahachie, Republic of Texas, and Ai, her odd but dear friend, whom she met online; a young woman who only shows herself to Lily as a rendered CG image.
Troubled by her past, haunted by her name, and facing an uncertain future, Lily seems only a quiet, simple life. But, that past and her present conspire against her.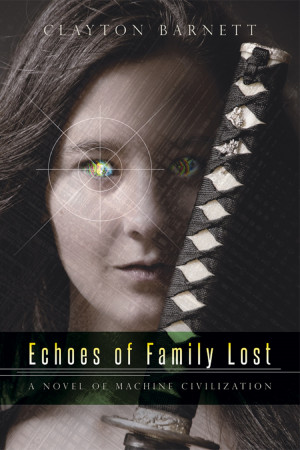 Echoes of Family Lost -
Alive! After four years believing her older sister lost and presumed dead in the horrible Breakup of the United States, Lily Barrett gets word from her dear friend, Ai – and Ai's family of Machine Civilization – that Callie Barrett is very likely alive… but over 900 miles away in Knoxville.
Using the resources of her and Ai's family, Lily puts together a search party to go find Callie: old, broken, and burnt Orloff – an expert in surviving in the Badlands, Ai's little sister, Fausta – her machine mind controlling a Combat Android to protect her friend, all together in a cart pulled by their sturdy pony, Clyde.
It's almost a thousand miles to go, with something very odd trying to limit their ability to communicate over distance and even to cross bridges. A chance meeting along the way in Huntsville, former Alabama, wrecks their plans, and puts all of their lives in danger.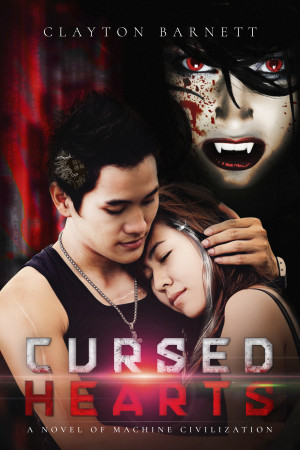 Cursed Hearts
- Even with San Diego occupied by the Mexican Army, Katarina Sosabowski pursues her MBA at UCSD, and is happy to welcome and put up her visiting step-cousin from Japan, Christopher Dennou, for a night so he can complete his enrollment the following day.
But a minor earthquake brings a major surprise: Chris's younger sister, Maya, murders their mother and escapes Neuroi Institute, the research facility that created them.
While Chris and 'Cat' grow closer to one another, Maya inexorably crosses an ocean and half a continent to take back her brother, killing anyone who gets in her way.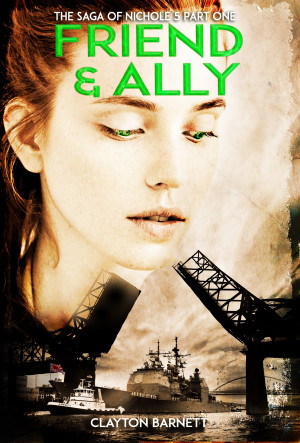 Friend and Ally
- Model 5 is a prototype designed to fit seemlessly into human society. A meeting in Tokyo derails Nichole's planned training as she is dispatched to Portland, former Oregon; the last working deep water port on the West Coast of the imploding US.
There, under her cover as a Graduate Engineering Student, she is to do her utmost to nurture the people and politics of the City-State into a Friend and Ally of the Japanese Empire. But from the first day in her new home, all of Nichole's plans go awry.
Beset by those who want this small lamp of Western Civilization snuffed out, Nichole must find within herself the courage and ability to protect her new friends, at whatever consequence to herself.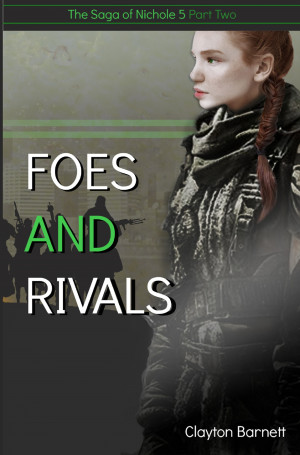 Foes and Rivals
- After residing nearly a year in Portland, Nichole's life seems to finally settle down: with her classes, friends, and lover. But troubling rumors about secret deals between the City's master and the savage horsemen to the east reach her ears.
With her own skills augmented by her friends and allies, she sets plans into motion she hopes will thwart those in opposition to her dream of a peaceful future.
Once again denied a quiet, normal life, Nichole is faced to make hard, dangerous choices that will jeopardize her, her friends, and the survival of the City itself.
GUEST POST
Creating a series
As originally conceived, "The Fourth Law" was a stand-alone novel. While I did have some thought of using the material in my mind to write a sequel, I took no action for several months. Once said sequel, "Echoes of Family Lost", was complete, I once again went in another direction: making an illustrated children's book, but (and here's where the world-building really began) set in the machine's home and centered around one of the minor characters.
For the next few months I played with different ideas – I don't like staying in the same genre – but always set in my evolving future history. I'd plenty of reason to: never far from my thoughts was Larry Niven's Known Space and Jerry Pournelle's Co-Dominium, in which they, respectively, wrote both short stories and novels.
Growing as a writer I understood more and more why: not only is such a future history a familiar place to return to, for both author and readers, but it to some degree relieves the tedium of reinventing an entire world for each book. While a reference to Henge's Beach in "Friend and Ally" might make little sense on its own, in context of "The Fourth Law" and the epilogue of "Echoes of Family Lost" it is quite intelligible. Similarly, while I didn't understand Pak Protectors and General Products hulls when I made my first forays into Known Space or the politics and intrigue of the First and Second Empires of Man in Co-Dominium, I could still enjoy the story and fill in the gaps with other books later.
While my to-date five novels are effectively three unique stories, there is a bit of overlap both in time and space. The earliest event begins in our immediate future and stretches forward for nearly five years (fifteen once I complete novel number six!). I also have the entire world to bustle in, with scenes from Osaka to Tokyo to Sapporo and Portland to San Diego to Texas to Tennessee. Any future history, like a traditional history, must abide by its own rules and internal consistency: I cannot have San Diego occupied by the Mexican Army in one book and a free port in another! That allows me as much time as I need and a world without end.
Echoes of Family Lost and The Fourth Law are only $0.99 each
One time engineer, some time pharmacy technician, full time husband and father, Clayton Barnett stumbled into writing a traditional novel November 2014 during National Novel Writing Month. Liking the results, he edited what would become "The Fourth Law" and set about teaching himself self-publishing. In the following four years he has produced four more novels as well as a children's early reader, all in what is now called Machine Civilization.
Clayton Barnett lives in central Ohio with his wife, two daughters, and two dogs.
Author's Giveaway


a Rafflecopter giveaway