We bought this book for our 15 year old son who is into fantasy and science fiction. However, after hearing him rave about it all day I had to give it a go. It was unbelievable, I read it all in one session, I told my wife about it and while she is not a fan of this type of story, as an english teacher she couldn't get over how well written and structured it is."
-
Ben, Amazon
The amazing story of DragonMan was born at the dawn of the 21st Century, when the world, about to change forever, watched in disbelief as four passenger airliners crashed, not only into buildings and a field in Shanksville Pennsylvania, but into the American certainty that the horrors of the outside world could not touch them at home.
It was into this world that a new kind of superhero emerged, one for whom the lines between good and evil are blurred. Is he friend? Or is he foe? No one knows for sure. What they do know, however, is that as a friend there is no one better.
DRAGONMAN NABS 2016 HONORABLE MENTION IN SUPERHERO SHORT FILM FESTIVAL
4-6-16
ThunderBall is pleased to announce our DragonMan trailer won HONORABLE MENTION in the 2016 SUPERHERO SHORT FILM FESTIVAL.
All of the books are being made into movies by ThunderBall films Ltd. And two songs written by me for the Saga. '
DarkSide Of Heaven'
(DragonMan Theme) and In
'That Gentle Moment'
for Descendants of Man'.
Teenager Luke Starr appears to be living a rather dull uneventful life in Milwaukee, Wisconsin. That is until fate and a nameless, faceless mysterious dark force from a different plane of existence catapults Luke into a series of wondrous adventures, adventures that will change his life and those around him forever. Luke Starr, respected, feared and hated by many as the one born to greatness, is suddenly propelled with great swiftness into a nightmare, then forced to come face to face with destiny. Is it all a dream? A wild imagination perhaps? Or is this unimaginable journey into the unknown real?
You're about to find out when you embark on this unforgettable journey with DragonMan. A fantasy adventure filled with wizardry and mystery that carries you away on the wings of magic to bewitching lands, where goblins dwell, wizards rule and witches still cast their evil spells.
The story unfolds with the mood of impending danger set early on, as a likable young teenage hero, Luke Starr, enters a mysterious realm of Earth known as the mythical world of Spellville, by way of an eerie portal in search of his kidnapped friends. But the journey for Luke is not so much a mission of mercy as one of self-discovery. For despite his humble midwest origins, Luke is no ordinary teenager. Imbued with super powers following a ritualistic exchange of blood with a clever dragon, Luke soon discovers the awesome legacy of his birthright, a dark side of great strength and brutal fury and must learn to accept the fact that he is known in this other world as The Chosen One.
Still, unquestionably human, he must come to grips with what he has now become, the most violent force in nature, a dragon hybrid, a.k.a. "DragonMan." And ready or not, he is thrust into a nightmarish life and death battle to try and save Planet Earth from alien beings hell-bent on destruction, at the same time grappling with his own fears and doubts while always in an inner conflict with himself trying to keep the violent nature of the dragon in check, making it a tough road to travel for this teenage boy of strong morals beliefs.
In a pace that never flags, Luke and an ancient dragon must now join together in an epic struggle that is all neatly stitched together by an intriguing cast of characters, both good and evil and not-exactly-as-they-seem, wherein , a mysterious psychic and an ominous stranger and alien attack on Earth keep the action rolling until the climactic conclusion.
How many books I have written
It would be easy to say that Ted Lazaris has led a charmed life; but the fact is that, along with some amazing bits of luck, Ted's considerable success is due to a lot of plain, hard work.
"I've worn a lot of different hats," says Ted when asked about his experiences. "I've worked in retail sales, the medical field as an anesthesia technician, in the printing industry, and I have even owned my own business, among other things."
But the "hat" that Ted enjoys best is that of a novelist. "I like to think of my books as modern day fables for the young and the young at heart", he says about "Dragon Man, The Adventures of Luke Starr" and "Dragon Man and the Poseidon Encounter", his two published novels.
Born in Milwaukee, Wisconsin, Ted grew up playing in the woods near his home. By his own admission, he wasn't too interested in reading when he was a boy. "I was the kind of kid that spent as much time as I could outside," he explains. "Nevertheless, I did enjoy reading Dickens and Twain," he adds.
When asked about the source of inspiration for his books and about his fertile imagination, Lazaris responds that both his writing and his ideas probably had their roots in an event that happened during his early childhood.
"I was 8 years old," he recounted, "and, being a boy that loved to play in the woods, I climbed a very tall tree. Somehow I lost my grip and I fell. During the fall, it seemed to me that time was suddenly suspended—as if it had come to halt. I saw a bright light and a voice that seemed to emanate from it that assured me I was not going to die."
That singular experience imbued in him wonderment at the unseen and undiscovered mysteries of life.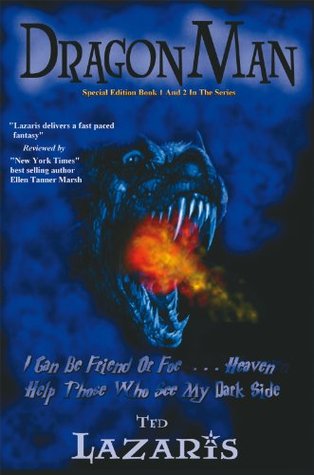 Ted's life again gave signs of apparently being charmed when at 17, while disposing of cardboard in an incinerator, shotgun shells that had been inadvertently thrown into the fire went off with a terrific blast, spraying pellets and shrapnel in every direction.
"They told me I should have been killed in the blast," Ted remembered. Yet, it was evident that something or someone was working overtime to protect him and inform him of important happenings in his life because some years later another incident signaled that another important event was going to happen.
His life had followed an apparently normal course for Ted: he got a job, he married and had children; but then, one day, when he was 27, he suddenly woke in the middle of the night. Again he saw a blindingly bright light before him. "What's wrong," his wife asked, alarmed by the way he'd sat up.
"Someone in our family has just died," he responded. The next day, a phone call informed him of the very sad news: his aunt, with whom he had been very close, had died. But the most astounding part was that she had died on the night, and at the very same time that Ted had awaken to see the blinding shaft of light.
That wasn't the last time Ted had such an amazing experience. A couple of years later, as he was driving in downtown Milwaukee accompanied by his wife, the image of his wife's younger brother suddenly appeared before him. Shaken by the sight, Ted had to pull over to the curb.
"What's wrong, Ted?" his wife asked.
"We'd better go to your mother's house," he answered quietly.
Upon arrival at his mother-in-law's home, Ted and his wife were informed that her younger brother had died of a gunshot wound.
The years after that occurrence passed uneventfully. Ted worked at various jobs and he and his wife went about the chores of any normal family: raising kids, working diligently, buying a home.
Yet, once in a while, strange things would happen. "One day," Ted remembers, "I saw a white feather falling from the sky. It fell right in front of me. My mother had recently had surgery; I suddenly had the intuition that something had happened to her." He said to his wife, "I think my mother has just died." And, in fact, it was true: his mother had just passed away.
Ted's incredible luck and extraordinary intuitions might have remained just a curiosity in his life but for the fact that one day, while out shopping, he was drawn to a book he saw on the shelf of a store. It was L. Ron Hubbard's "Scientology: A New Slant on Life".
Giving in to a compulsion to buy it, he took it home and placed it on his nightstand; "But," he recalls, "I did not open it or attempt to read it."
Then, during the nights of the following days, he began to experience unusual flows of perspiration, as if he were racked by anxiety. As if to relieve an unexplainable impulse he began to write. The result was the first of his two marvelous Dragon Man fables.
"The strange thing about this is," he says musingly, "I never aspired to become a novelist." Yet, as they say, the rest is history because Ted Lazaris is now the proud author of not only one, but two refreshingly entertaining books which have been not only well received but have been optioned by executive producer Mario Domina, President of Thunderball Films, who will develop screenplays from the published works as a Feature Franchise.
What is the name of your latest book and what inspired it?
DragonMan – Face Of The Unknown
War Of The Worlds
Do you have any unusual writing habits?
I write at any time of day in any place.
What authors, or books have influenced you?
H.G.Wells
What are you working on now?
Another DragonMan novel
What is your best method or website when it comes to promoting your books?
Using a lot of the free sites out there, to promote my book when it's a free giveaway.
Do you have any advice for new authors?
Don't give up.
What is the best advice you have ever heard?
Take your own advice.
What are you reading now?
Lew Hunters screenwriting 434.
What's next for you as a writer?
At this time I'm working with Thunderball Films LLC. Trying to get my novels I up on the big screen.
What is your favorite book of all time?
War Of The Worlds
on sale for 99 cents untilJan 27th
Free Eight Chapter preview of AMAZON Best-Seller - DragonMan: Descendents of Man
Also listen to In 'That Gentle Moment' A song written for this adventure by me. HERE
Why did the Anunnaki come here? Did they create human hybrids? What is their plan for earth? And for us, the human hybrids? Why did some; the original humans (Bigfoot) resist? Will we survive what is yet to come? -- Those who look for the truth, already know -- those that fail to search, are lost -- but those with an open mind will soon come to know... The Descendants Of Man. Much of the story information that was obtained to create this story is believed to be true by many people around the world -- Fact or fiction -- You decide.
Click here for all eight chapters:
DragonMan: Face Of The Unknown, authored by Ted Lazaris, who created DragonMan and wrote the series of novels, which are being developed and produced by ThunderBall Films, has accomplished the amazing feat of debuting at NUMBER #1 on AMAZON KINDLE, ahead of David Baldacci and James Patterson novels.
Ted Lazaris, (Dragonman Productions) received the attention and a Letter of Commendation from former First Lady, Laura Bush who commented "I admire your efforts, through writing adventure stories, to encourage people of all ages to enjoy reading.
The following is the Foreword Written in the Novel, DragonMan - Descendants Of Man, by Actress, Kya Garwood, who is also known for roles in films such as Into The Woods - National Treasure - Dark Shadows.
Ted Lazaris is the successful, #1 Amazon best-selling, creator and author of the DragonMan series, a 21st century superhero saga - like nothing we've experienced before. With the DragonMan series optioned by CEO/Producer Mario Domina of ThunderBall Films Ltd., Ted can add screenwriter, producer and, if that wasn't enough, writer of lyrics to two songs set to feature in the films, to his impressive list of achievements.