"This is a really good, fantasy series for kids of all ages. It has a good message and lots of action to keep you involved in the story. I am excited to see what happens next in this series."
-
Jessica, Goodreads
After months of living a normal life, thirteen-year-old Alyssa McCarthy faces magic again. Only this time, though, she is cursed with it, thanks to an old depressed skeleton named Errol. Alyssa's time with her godfather, Alex, will never be the same again, as she can perform sorcery, but never control it.
From letting out enchantments at school to creating outdoor disasters, Alyssa is bound to face consequences. She can only get rid of her powers if she can boost her confidence levels and improve her bravery. But it's not as easy as it sounds. She must measure those abilities with a special device called a skillometer. Will she be able to get rid of her unwanted wizardry?
1. How hard and what it takes to write middle grade / children stories?
I know what you can and can't include. But I've written for a few years now regularly. So it's my comfort zone.
2. Alyssa, the main character, is now 13 years old. How did you adapt the story to her "new age"?
It's six months after the end of the first book, From Frights to Flaws. I did some online research to study what 13-year-olds are like as well as watched movies and videos.
3. After so many "magical" stories is there room for fantasy still? What an author has to do to gain readers' attention?
I try to avoid clichés in my stories. For instance, I make up all the magical creatures and not use those in other stories (i.e. unicorns and dragons). If I do use something clichéd, like wizards (which are important to the premises of my story), I do something to them that makes them more unique (for example, my wizards use modern technology more advanced than ours).
4. Which are your sources of inspiration for magic that is used by "people" in Alyssa's missions?
Anything that fits the story, really.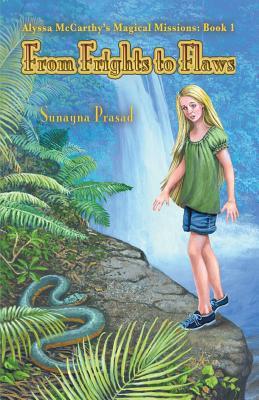 5. Are the fantasy stories only for fun or they should have a message to send?
They're technically for fun, but the main character has to grow and change in order to achieve her goal. She has to learn to be more confident and brave.
The scent of lavender drifted into Alyssa's nostrils, causing her to inhale. The aroma tickled the inside of her nose. Vapor also touched her face as she lay on top of her bed. She opened her eyes, noticing the lilac-covered mist clouding around her face. Gasping, she bolted up. She turned to her window and saw that it remained shut as it had all day.
Where did this come from? Alyssa thought.
Her stomach knotted as she hopped off her bed. Something like this could not just happen out of nowhere—unless—it was caused by… wizardry. Alyssa raised her eyebrows as an alarm buzzed inside her head. She couldn't believe it. It was now October—six months since people and creatures doing sorcery had left her life. And that amount of time was only the minimum amount for magic to stay out of her daily routines with everything she'd done. If not, wizardry would have just left her alone forever.
Sunayna Prasad is a college student studying art. In her free time, she likes to write fiction. She is also the author of From Frights to Flaws, which is the first installment of the series, Alyssa McCarthy's Magical Missions. Sunayna lives in New York with her family.