Expected Publication: December 17th, 2013
Description:
Since the Blood Moon battle six years ago, Lucy, and her hot vampire boyfriend Nicholas Drake, have kept the peace between the vampires of Violet Hill and the Helios-Ra hunters. But breaking up fights between rogue hunter Aggie and irresistible rebel Callahan is proving a big challenge; Aggie just can't accept that behind Cal's burning blue eyes, he is in control of his bloodlust. As Lucy's best friend and Nicholas's sister, Solange, return home for the group's Winter Solstice celebrations, Aggie struggles to admit the real reason she finds Cal a threat – and risks far more than her heart . . .
An action-packed tale of dark romance from the author of the bestselling Drake Chronicles series. The perfect way for fans of Stephenie Meyer, L.J. Smith and Rachel Caine to enjoy the long winter nights.
Thank you, Mrs.Alyxandra Harvey
Why do you think people like to read books with and about vampire? From where this fascination?
Vampires continue to fascinate for so many reason, partly, I think, because they are so changeable. And there is allure and a thrill to things hidden in the night, even now that we have electric lights everywhere. But think of how creepy the thought of vampires would actually have been, say 200 hundred years ago, by candlelight.
My favourite aspect though the fact that they can live for hundreds of years…they could have lived in a medieval castle, met Jane Austen or Mary Frankenstein, or watched Stonehenge being built.
You published the first volume of the Drake Chronicles in 2009. There are some significance transformations in literature regarding Urban Fantasy in general and vampires in particular? Have these changes affected the way you write?
The Drake Chronicles came out on the downward slide of the vampire craze, at a time when Vampire Fatigue was practically a diagnosable illness! Still, vampires have always managed to make a comeback and they certainly haven't faded away entirely. I knew I was fighting the market, so to speak, but the Drakes reminded me of one true thing: Tell your Own Story. Despite the embarrassment of vampire book riches (and what a grand problem to have!), I'd always had my own tale to tell and I am so grateful I was able to.
Why novellas? What is their role in a series?
With The Longest Night, the genre of the novella is a great way for me, and hopefully my readers, to revisit old friends. The Drake Chonices series ended with #6 Blood Prophecy, but the Drakes are still in my head. Novellas are a lovely way to visit without having to plan as much as a full length book re. the market, contracts, sales etc.
What an Urban Fantasy should have and what should avoid?
I think the genre is big and deep enough to have a little something for everyone. I'm not a personal fan of gore, but it's easy enough to find novels without it.
Do your ghost friends tell you some secrets or give you tips about the supernatural world?
Happily my resident ghosts are very quiet and polite. Those are the house rules… I have to sleep here so we have to play nice together or I'm booting undead asses into the Light. ;)
Her sister would have told her to go for the heart.
Knowing how difficult it was to successfully push a stake through a vampire's heart, especially when that vampire was conscious, Aggie chose a different approach.
Plus, a staking would get her expelled. And she was already on probation. Again.
She pressed against a tree, trying not to feel how numb her toes were. At least December in New York had coffee on every corner and diner windows fogged with steam. There might be coffee in Violet Hill but it was probably made with chicory root and anyway, she was miles away from town with nothing but snow, trees, and more snow. All this fresh air was unnatural.
Almost as unnatural as sharing space with a vampire.
She knew he was coming. She could feel it. Her heart sped up even as she told it not to. It always did that. Callahan was on his way back home; it was Sunday night after all, and Sunday nights were family night. Well, they called it family night but Aggie knew a mandatory curfew when she was on the receiving end of one.
She kept her breaths shallow so they wouldn't mist in the frigid air and give away her position. Yen had once hidden in a garbage dumpster to cover her scent so she could stake a vampire feeding off the homeless guys living in Central Park. A little frostbite was nothing. She had two stakes, Hypnos powder in her cuff, and a steel needle-stake in a holster under her sleeve. She was ready. She'd get him this time.
Aggie whirled, stake stabbing the air. She narrowly avoided her best friend's heart and pulled a muscle in her arm for her trouble. "Shit, Paige," she snapped. "I could have killed you."
Paige didn't look particularly concerned. She crunched through the last of her bit of her candy cane. Her fire-engine red hair was in two braids, woven through with silver tinsel. No one did Christmas spirit quite like Paige. "Who are we not-killing tonight?" She slid Aggie a glance, then rolled her eyes. "Never mind. As if I have to ask. Your nose is going to run if you stay out here much longer."
Aggie shoved Paige down into one of the bushes and reclaimed her position behind the tree. "Snow down my neck!" Paige gasped. "Snow down my neck!"
"Serves you right. Keep an eye on that part of the forest, would you?"
Paige sighed. "Don't you ever get bored of this?"
"It's what we do. We're hunters. And anyway, Agent Wild said we have to be prepared to fight in any weather."
"Yeah, she's also dating one of the Drake brothers. I'd much rather be doing that."
"Whatever, so she's not perfect." The Drake brothers were unfairly hot. There was no sense in denying the obvious. "She has more vampire kills than anyone else at the academy. She'd have taken Callahan out by now."
"You know, this obsession of yours is bordering on a bad teen movie crush."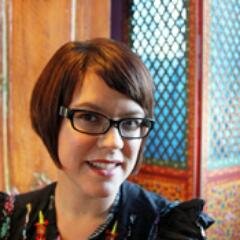 Alyxandra Harvey lives in a stone Victorian house in Ontario, Canada with a few resident ghosts who are allowed to stay as long as they keep company manners.
She loves medieval dresses, used to be able to recite all of The Lady of Shalott by Tennyson, and has been accused, more than once, of being born in the wrong century. She believes this to be mostly true except for the fact that she really likes running water, women's rights, and ice cream.
Author's Giveaway
a Rafflecopter giveaway