Description:
A calculating killer is giving new meaning to the phrase 'cheaters never win'. Targeting married men eager to cheat on their wives, she gives them the ride of their lives and never leaves a trace of evidence. To the detectives trying to find her, she's invisible.
Detective Jaden McKoy is tired of the pile-up of bodies she's leaving behind, but what makes his job tougher is his precinct commander. They'd shared more than cases before she outranked him, and now she wants to keep their relationship strictly professional. It'd be a hell of a lot easier if he didn't know what that body of hers looked like underneath the lieutenant's crisp exterior.
Lieutenant Kennedy Biltmore would have been perfectly happy if she hadn't gotten transferred to Jaden's precinct, especially considering her transfer made her his boss. For the sake of her career, she couldn't think of him as anything other than a detective. But her memory wasn't buying it.
In the search for a killer who shows no signs of stopping...or remorse, Jaden is faced with a tragedy that threatens to destroy him. Only Kennedy stands between him and the loss of everything he is. But when he becomes the killer's prey, the choice he makes could not only end his career but rip him out of Kennedy's arms forever.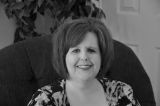 Rachel Carrington began her career writing fantasy romances of powerful wizards and wicked witches. Since then, she has branched out into contemporary romance and romantic suspense and has had books published with Ellora's Cave, Samhain Publishing, Red Sage Publishing, and more.
Currently, a freelance editor/writer residing in historical Charleston, South Carolina, Rachel has written non-fiction articles for Absolute Write, The Writer's Journal, Writing for Dollars, Writer's Magazine, and Writer's Weekly.
Because she likes staying busy, Rachel has also taught classes for Suite 101 and for author groups regarding promoting, writing, starting your own business, and editing.
When not writing, Rachel loves to read romantic suspense (Lisa Gardner and Roxanne St. Claire are two of her favorites), rework old furniture, cross-stitch, cook, and drink lots of coffee.