18+
From Goodreads
: "
Gripping! Thrilling! Enthralling! 6 starsTHE GILDED CUFF is an excellent blend of eroticism and suspense! Amazing debut for Lauren Smith's new series Surrender! You have the perfect mix of a hot romance and a well-plotted story with a suspenseful twist and a light touch of BDSM! Who doesn't love a bad boy hero? This book grabbed me from the first page!"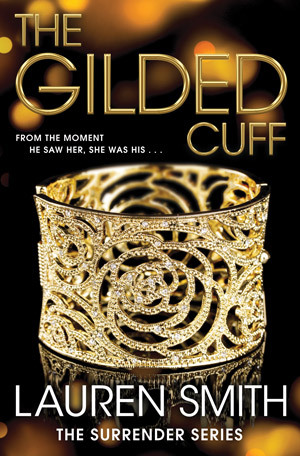 Description:
Published: February 10th, 2015
Every passion has its price . . .
Journalist Sophie Ryder has been following Emery Lockwood's story since she was a little girl. There has always been something in his haunted eyes that she couldn't resist and now, when she's certain he holds the key to solving a string of kidnappings, she'll do anything to speak to him. Even if it means venturing deep into the seductive world of the Gilded Cuff, a luxurious BDSM club on Long Island's Gold Coast and Emery's personal playground.
From the moment Sophie enters his shadowy, sensual domain, Emery Lockwood knows this tantalizing new little sub was meant to belong to him. However, Sophie wants more from Emery than just pleasure . . . she wants his past. And that is something he isn't willing to give—no matter who is asking. But every moment he spends with Sophie, Emery feels his control slipping and he knows it's only a matter of time before he surrenders to her heart, body, and soul.
"I thought The Gilded Cuff was just a BDSM book but it was much more than that. The author gives readers a REAL STORY that grabbed me at the first page up until the very end. Yes we have some really kinky, steamy sex but the author also gives readers suspense, danger, mystery and a deep genuine love connection that is so powerful and caring. There was no denying these characters commitment to one another. I love a book that challenges me and one that makes me keep my guard up and The Gilded Cuff was that kind of book. The story flowed beautifully. The progression and character development were flawless and the details in the story line was captivating."
Goodreads
Lauren Smith is an attorney by day, author by night, who pens adventurous and edgy romance stories by the light of her smart phone flashlight app. She's a native Oklahoman who lives with her three pets: a feisty chinchilla, sophisticated cat and dapper little schnauzer. She's won multiple awards in several romance subgenres including being an Amazon.com Breakthrough Novel Award Quarter-Finalist and a Semi-Finalist for the Mary Wollstonecraft Shelley Award.