Can she stand her own ground to stay in Monastery Valley while she tries to solve the murder and defends herself against scurrilous political ads paid for by a mysterious stranger?
Published: January 23rd, 2020
A cold-blooded murder.
The victim: A fourteen-year-old boy.
The shooter waits patiently for the cops and calmly explains his right to kill the boy. "I was defending my property."
Can Deputy Andi Pelton find the evidence to break through the killer's stand-your-ground defense?
Suddenly, Sheriff Ben Stewart almost dies and cannot campaign for re-election. Andi knows she must take his place—her nemesis, Deputy Brad Ordrew, runs unopposed and he's promised to fire her when he's sheriff.
Can she stand her own ground to stay in Monastery Valley while she tries to solve the murder and defends herself against scurrilous political ads paid for by a mysterious stranger?
It's the rugged Monastery Valley of Montana. High on the cliff called the Coliseum stands a man, deciding whether to live or die.
In the valley below, Grace Ellonson, fourteen, will be abandoned by her mother. Where has Grace's mother gone, and why has she left her daughter behind?
A rancher will be seduced into a racist and anti-government conspiracy—who's leading the conspiracy and what are his plans?
Depressed psychologist Ed Northrup and Monastery Valley newcomer deputy sheriff Andi Pelton struggle to unravel these mysteries before they explode in a violent collision.
And amid the chaos, Ed, Andi, and Grace must face the most formidable decision of their lives.
When cattle baron Magnus Anderssen collapses mentally, psychologist Ed Northrup struggles to find the cause - a terrible event buried in Magnus's past leaving him veering between suicide and murder. Meanwhile, Deputies Andi Pelton and Brad Ordrew clash as they investigate Jared Hansen, a boy caught with rifles and a paranoid plan to kill his schoolmates. Their problem? Jared, a great kid, a school leader, has no previous problems.
Ordrew's convinced Jared's a mass shooter-in-waiting, but Andi's not. Ed joins their search for whatever caused his radical transformation from great kid to psychotic killer. It's a race against time: Magnus grows more irrational and homicidal, Jared's insanity may not be controlled before it's too late, and Ed's risky plan to save the boy may destroy his relationship with Andi.
Nobody's Safe Here, a psychological thriller, tells the story of a community of ordinary, decent people facing terrifying mysteries.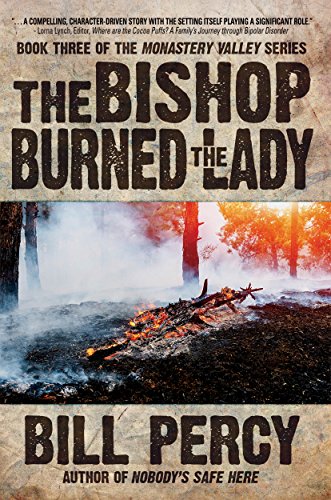 The Bishop Burned the Lady (#3)
A mysterious fire in a remote forest clearing; a woman's charred bones; unexplained tracks in the rutted road—the only clues Deputy Andi Pelton has to what happened. Then she meets an old man living alone in a forest compound that obviously houses many people. Sex trafficking in the Montana wilderness?
As Andi and psychologist Ed Northrup struggle to solve the brutal and fiery murder, Andi faces a fear she didn't know she had. The horrors they unearth lead them deep into the appalling reality of prison gangs and a cult led by a malign Bishop—and threaten to overwhelm Andi and Ed's romance and her growing bond with her "step-girlfriend," Ed's adopted daughter, Grace.
Will that center hold when Andi finds the killer holding a knife against her throat? And if it does and she succeeds, will she be able to face her greater fear?

About the author:
Bill Percy,
an award-winning novelist, draws on his experiences as a psychotherapist to write vivid, engaging tales of people confronting painful and challenging mysteries. His previous novels in the Monastery Valley series, Climbing the Coliseum, Nobody's Safe Here, and The Bishop Burned the Lady, were finalists or distinguished favorites in multiple book award competitions. Bill lives with his wife, Michele, in Hope, Idaho, above the shore of idyllic Lake Pend Oreille in the shadow of the rugged Cabinet Mountains.