"
There is something about this series that I find incredibly addicting, the characters are relatable and the situations gain my sympathy. If you've been wondering if you should read this series or not, then rest assured, it's amazing and you really should read it.
" -
Jessie, Goodreads
Life just keeps slapping Mary in the face.

She had it rough growing up, and when it finally looks like she's getting her life firmly back on track, breaking up with her boyfriend starts a string of events that threatens to bring Mary to her knees.

Fortunately, there are good people in her life who will do everything in their powers to help her when she needs it. Mary's girlfriends, Jinx and Wilder are there for her, and after she's rescued from being kidnapped, Carson and Bo take her into their home, becoming the family she always wanted but never seemed to get to keep.

As the group around Hawker Johns hunt the men who wanted to trade Mary for the valuable crystal from the mountains, she slowly recovers. Then life throws her another few curveballs, and it looks like she'll lose everything yet again.

Mary is resilient and used to restarting her life from nothing, but when it looks like she'll also lose the man she loves, maybe the happy girl has just had enough?

Picture this is the third book in the Birds of a Feather series, a young adult/coming of age series with paranormal elements, full of laughter, mystery, and romance.
They walked in late in the evening, a little drunk and a lot rowdy, three of them laughing and dragging the fourth along with them.
I carried an empty tray in one hand and tried to tuck my notepad into the back pocket of my black, too tight jeans with the other. The place was filled with smoke and laughter, but I was dead tired and the thick layer of cheap makeup I had put on many hours earlier felt sticky. I wasn't sure where to sleep when I got off shift, and my usual place behind the University library wasn't an option because early that morning, they'd started removing the dumpsters I usually huddled between. Someone said that they were clearing the site to start building a new art department, but I didn't care. I'd been busy grabbing my few belongings, scanning the area to see if someone left anything useful that I could get my hands on.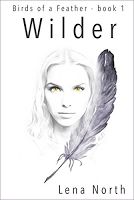 "Come on Hawk," I heard one of the men saying. "You lost the bet, we got to choose your loss, and this is our choice."
I wondered what they were doing in a bar like Kinkers. I'd worked there for almost six months, and it was clean enough, but it was located on a back road in a part of Prosper well known to be unsafe. The owner liked to call it a roadhouse and they served lunch, which was the shift I worked most of the time. In the evenings, it was mostly a bar, and no one ever ordered any food, unless you counted peanuts and chips.
It was also a strip joint, and it was usually filled with men but that night was a Friday, so it was ladies' night. This meant male strippers and an audience filled with women in various stages of inebriation.
"I'm not going to –" the man they'd called Hawk started, but another man cut him off.
"Oh, but you are," he said gleefully, and called out when the angry man made a dash for the door, "Guys, do something. He's escaping."
I couldn't hold back a loud giggle when I realized why they were there. They meant to put their friend on stage. One of the other men moved slightly, and I turned to look at him. Then I stopped breathing. He was tall and lean, with unruly black hair that was a little too long, and laughing brown eyes. He was so beautiful.
Our eyes met and held, and his brows went up a little.
"Hey, he's running," someone shouted, and our gazes unlocked.
The beautiful man turned toward the door, and flicked his fingers at our bouncers in a small gesture, indicating that they should stop his fleeing friend. To my surprise, they grinned and stepped in front of the man just as he reached the doors. I wondered if he'd be crazy enough to fight the brawny bouncers, and for a few seconds, it seemed like he would, but then his head tilted back, and he looked up at the ceiling. I saw his shoulders go up a little as if he was inhaling, and then he turned.
He was gorgeous too although in a completely different way. He looked dangerous and hard. When he walked back to his friends, his eyes flicked over me, and I pulled in air because of the intensity in them, but also because their color was such light amber, they were almost yellow.
"Get the thong," one of his friends shouted, and the women around the stage that had followed the events started cheering.
"No," the yellow-eyed man said calmly. "I'll do this because I pay my debts, but I am not wearing a thong."
"Don't worry, Hawk," the beautiful man laughed. "There are other options."
Another cheer erupted, and then they moved toward the door leading backstage. Bobby Dawner, the owner of the bar, met them and greeted the beautiful man with a back-thumping bear hug. I heard him boom the man's name, and it burned into my soul.
"Miller."
That was the night everything changed. When I got off my shift and walked through the empty streets, looking for something, anything, that could provide cover, I was beaten up by a young man who wanted my meager tips from the evening. I woke up in the hospital and saw a woman sitting in a chair, calmly watching me.
"Do you need help, child?" she asked.
I looked back at her for a long time, and then I gave up. I'd learned the hard way never to trust anyone, but her eyes were kind, and I couldn't make it on my own anymore, so I decided that I'd accept whatever bad things she might have in store for me. It wouldn't be worse than the life I already had.
"Yes," I whispered.
Her eyes softened, and a gentle smile curved her mouth, and when I saw it, I smiled back, tentatively.
"I'm Joelle," she said.
I was fourteen years old, and that was the night my life resumed.
The proper way to put it here would probably be to describe how I love to play with our two big dogs, adore my fantastic daughters and how much I love to read.
Another way would be to use my imagination and then I would be a super powerful warrior woman, think Xena the warrior princess (though with less tacky clothes). Or when I think of it, maybe I'm actually more of a Hercule Poirot (sans the suit and moustache). Or maybe I'm like Aragorn, strong and cool and then I might get to meet Gandalf! Or I could be Bella's pretty cousin and snap Jacob up in a second (yeah, I'm so not team Edward), or wait, maybe I could be like one of them heroines in historical novels who swoon all the time. I've always wanted to swoon…
Well, I guess you get how my mind is working (or not working, some say).
Anyways, I like to write. Stories, adventures, romantic and happy stuff mixed up with sorrow and hardship, and bit of laughter here and there because the way I see it – life is way too short to go around feeling grumpy.