Jae Hwa Lee has destroyed Haemosu, the dangerous demi-god that held her ancestors captive, and now she's ready to forget about immortals and move on with her life. Then the god of darkness, Kud, sends an assassin to kill her. Jae escapes with the knowledge that Kud is seeking the lost White Tiger Orb, and joins the Guardians of Shinshi to seek out the orb before Kud can find it.
But Kud is stronger and more devious than Haemosu ever was. Jae is soon painfully reminded that by making an enemy of Kud, she has placed her closest friends in danger, and must decide how much she can bear to sacrifice to defeat one of the most powerful immortals in all of Korea.
An excellent sequel! Seriously, this was an awesome sequel and a fabulous book in general. Now, everyone go buy this series and support this author and BRING ME BOOK THREE!!
-
Goodreads
I loved this story's back round and how it all played out. I found it intriguing and fascinating. Silvern is book two of the Gilded Series and picks up masterfully from where Gilded ended. I was so taken with the detail and how easily I was transported to a world that was far beyond anything I had imagined. I annihilated Silvern as if I were fighting along side Jae Hwa. I am very excited to see what fate awaits Jae Hwa in the rest of the Gilded series.
-
Goodreads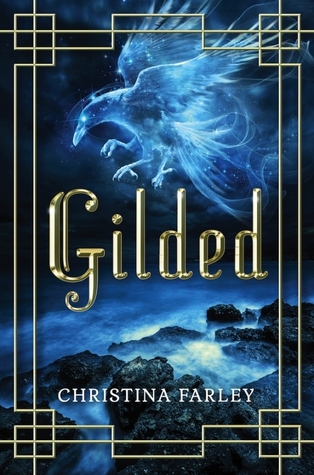 Sixteen-year-old Jae Hwa Lee
is a Korean-American girl with a black belt, a deadly proclivity with steel-tipped arrows, and a chip on her shoulder the size of Korea itself. When her widowed dad uproots her to Seoul from her home in L.A., Jae thinks her biggest challenges will be fitting in to a new school and dealing with her dismissive Korean grandfather. Then she discovers that a Korean demi-god, Haemosu, has been stealing the soul of the oldest daughter of each generation in her family for centuries. And she's next.
But that's not Jae's only problem.
There's also Marc. Irresistible and charming, Marc threatens to break the barriers around Jae's heart. As the two grow closer, Jae must decide if she can trust him. But Marc has a secret of his own—one that could help Jae overturn the curse on her family for good. It turns out that Jae's been wrong about a lot of things: her grandfather is her greatest ally, even the tough girl can fall in love, and Korea might just be the home she's always been looking for.
After teaching and traveling internationally for ten years, Christina started writing about her adventures, tossing in a little fiction for fun. This inspired her to write the GILDED series, a YA series based on Korean mythology about a Korean-American girl who takes her destiny into her own hands.
Besides writing, Christina loves traveling, running, driving too fast, and eating dark chocolate.
Christina writes fantasy for teens. She is represented by Jeff Ourvan of the Jennifer Lyons Literary, LLC.
Learn more about Christina by visiting her: