"The Red Road does not shy away from much of anything. There are some dark scenes, and some weighty questions that are raised by this book.[...]
Despite the heavy subject matter (revenge, violence, culture clashes), The Red Road was a quick and satisfyingly intense read. Recommended.
-
Amazon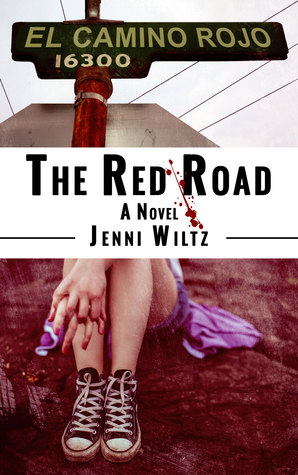 A father's love. A family's tragedy. A daughter's revenge.
Honor student Emma knows more about galvanic cell diagrams than guns. College is the only way out of her gang-ridden hometown, but her parents can't afford it.
When her unemployed dad lands a job as a census taker, things start looking up. But he's sent deep into East Malo Verde, where gang members rule the streets and fear anyone with a badge who knocks on doors. One night, a gang member mistakes him for a cop and beats him savagely, leaving him for dead.
Her best friends, her chem lab partner, her mom, and the detective assigned to the case all try to convince her to focus on school. But school won't prepare her for a world that ignores a crime against a good man. Emma must decide what's more important: doing what's expected, or doing what she feels is right . . . even if it leads her down a dark and dangerous path of revenge.
The Red Road is about a girl in turmoil, coming of age as she discovers the depths - and the limits - of friendship, first love, and the bond between parents and their children.
Echoes of the Fisher King: Can a Girl Avenge Her Wounded Father?
There are no vampires in this book. No wood nymphs, no mermaids, no giants, no werewolves, no things that go bump in the night…unless you count the mythological echo of the Fisher King that haunts these pages.
In the tales of King Arthur, the Fisher King is the one who guards the Holy Grail. He's a wounded man who can't move—and can't do his job. There are some sexual overtones to that story that don't have a place in this particular book, so let's just whistle a happy tune and skip over those, okay? The point is that he can't support the next generation, the people who are all depending on him to protect and provide for them. His kingdom turns into a wasteland while he waits for someone who can help him. It's a mythical quest worthy of the Knights of the Round Table.
And I've given it to the sixteen-year-old version of me.
Holy smokes, you guys, there's no way this is going to end well.
My Modern Take on the Quest
Here's how it shakes down in the book. Emma West's dad has always promised to send her to college. But then he loses his job and sends their family onto the edge of bankruptcy. When he gets a part-time job as a census taker, things start looking up…until he's sent deep into East Malo Verde, the center of the town's gang activity. One night, a gang member mistakes him for a cop and nearly beats him to death. After the attack, Roger West is paralyzed by fear. He can barely move, let alone provide for Em and her family.
Even though Em should be focusing on school, she starts to think about revenge instead. Anger overwhelms her and suddenly everything in school seems pointless. What good is learning about math or literature when a crime against a good man goes unpunished? So Emma takes on the mythical quest of avenging her father.
But Em doesn't have any of the mythological trappings of a hero. She has no shield, but maybe being a socially invisible nerd is the modern equivalent. She doesn't have a weapon, but she has the internet and a brain that earns her straight A's. She doesn't have the courage, either…until she sees just how much danger her family might be in.
Can Em become the hero her family needs? Or will she end up blinded to the true nature of the quest and destroy everything her dad has worked for?
Goodreads ** Smashwords ** Amazon ** Kobo ** Google Play
Jenni Wiltz writes fiction and creative nonfiction. She's won national writing awards for romantic suspense and creative nonfiction. Her short fiction has been published in literary journals including Gargoyle and The Portland Review, as well as several small-press anthologies. When she's not writing, she enjoys sewing, running, and genealogical research. She lives in Pilot Hill, California. Visit her online at: