A year ago, strange things started happening to those who survived. Some of them transformed into something dark and sinister, while others evolved, becoming something more, something beyond human.
Published: November 20th, 2015
A year ago, the Virus killed off most people in the world.
A year ago, Dani and Zoe were lost. They traversed the country to find one another, losing some of the people dearest to them along the way. They fought for their right to simply live, uncovered long-buried secrets, and discovered irreversible truths. And after everything Dani and Zoe have been through—even with the battle wounds that they bear—they're still not safe.
It's time for the struggling to end, for survivors to take back their lives, their families, their safety. It's time to really begin to live, and to do that, they must wait for the first rays of dawn.
1. What inspired The Ending series?
LP (Lindsey Pogue):
We were both working at a bookstore a few years ago, and we were on our way home from a tradeshow in Oakland. I think we were high from the smell of new books or something because we were giddy and started chatting about writing and stories and it bloomed from there. We started brainstorming characters and story arcs, and before we knew it, we had Zoe and Dani outlined and a title for our project.
LF (Lindsey Fairleigh):
Yeah, we had the entire premise set up by the time we parted ways that evening.
2. What motivated you to write a post-apocalyptic romance series? Have you always been science fiction fans?
LP:
Romance fan, yes! Science fiction…not so much. My dad was a sci-fi reader when I was growing up, so I was surrounded by books with spaceships and laser guns on the cover. I assumed that was all the science fiction genre consisted of. Clearly, I was wrong. When LF and I first started The Ending project, I wanted to write and
embrace my creativity. Our collaboration was going to be that outlet for me so I committed myself, not caring what the genre was. Since then, I've started to read more dystopian novels and am fascinated with the intricacy of some of the more epic science fiction storylines.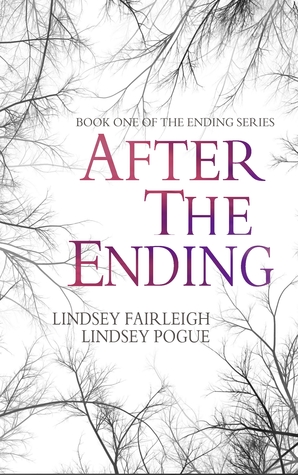 LF:
I, on the other hand, have always been a fantasy and science fiction fan. My love of romantic themes didn't develop until later, but now I find myself losing interest in a book if it doesn't include at least a little romance or sexual tension. As for our motivation to write a new adult post-apocalyptic romance series—we both love YA books like Divergent, Shatter Me, and Hunger Games, and wanted to create something similar, just with more adult themes.
3. How much of the series is realistic?
LP:
Although our book is fiction, we tried to make it as realistic as possible. We did as much research as we could before taking our own creative licenses and adding things into our post-apocalyptic world that might not have been there otherwise. Overall, we try to keep the reader engaged and constantly thinking "what if".
LF:
There were a few "real world" things that we tweaked for the sake of the storyline, possibly the most obvious being that the internet stays up for a few weeks after almost everyone is dead, but we stuck with it because of the way the project originated. In the beginning, the entire thing was epistolary--it was all written in the form of emails between Dani and Zoe. We changed that, thankfully, but felt the need to retain the email communications because they were the original heart of the story--everything else formed around them.
LP:
I'd like the readers to consider this our interpretation of the humanistic side of things. I think we provide a pretty realistic picture of what life would be like after The Ending (maybe minus all the hot guys running around). Yes, Zoe and Dani are in their twenties, but that's young and they're alone, and the world as they know it is ripped out from under them. There is so much for them to process, and they are scared and grasping for any sense of normalcy they can find. For them, sometimes that means crying too much, distracting themselves
with men, and making poor or rash decisions. Are they acting immature? Maybe, but unrealistic would be having them pick up a rifle and start blasting people without a second thought. Our heroines have a lot of maturing to do throughout the series, so partially I think we wanted to show Dani and Zoe as they were prior to The Ending, and as the series progresses, how they grow.
LF:
Hmmm...maybe that the apocalypse doesn't have to be entirely about death and sadness. That's not to say that those things aren't present throughout the books--I think Dani and Zoe have emotional and mental breakdowns nearly every other chapter--but we really wanted to highlight the undeniable power of hope, love,
and friendship. For Dani and Zoe, a life without those things would have been only a half-life.
5. What projects, if any, are you both going to work on together? Will they be in the world of The Ending?
LF:
LP and I have three Ending projects planned down the pipeline - two that are much more immediate and one that's definitely a several years out project, as we'd like to develop our other, separate projects and grow individually as writers and creators. The two more immediate projects are titled The Ending Series: World Before and The Ending Series: World After, and both are story collections featuring our favorite Ending Series characters, but not focused solely on Dani and Zoe.
LP:
The stories in World Before will take place prior to the Virus outbreak--five, ten, maybe even twenty years before in some cases. The stories in World After will be continuation stories that take place after The Ending Series book four. Depending on the characters we choose to write about, their stories could take place months or maybe even years after Before The Dawn. As for the third project, that will be a ways out, as LF mentioned, but we've left the world of The Ending open for many possibilies. :)
Lindsey Fairleigh
lives her life with one foot in a book—as long as that book transports her to a magical world or bends the rules of science. Her novels, from post-apocalyptic to time travel and historical fantasy, always offer up a hearty dose of unreality, along with plenty of adventure and romance. When she's not working on her next novel, Lindsey spends her time reading and trying out new recipes in the kitchen. She lives in the Pacific Northwest with her two very confused cats.
Lindsey Pogue
has always been a little creative. As a child she established a bug hospital on her elementary school soccer field, wrote her first YA manuscript in high school, and as an adult, expresses herself through writing. Her novels are inspired by her observations of the world
around her—whether she's traveling, people watching, or hiking. When not plotting her next storyline or dreaming up new, brooding characters, Lindsey's wrapped in blankets watching her favorite action flicks or going on road trips with her own leading man.