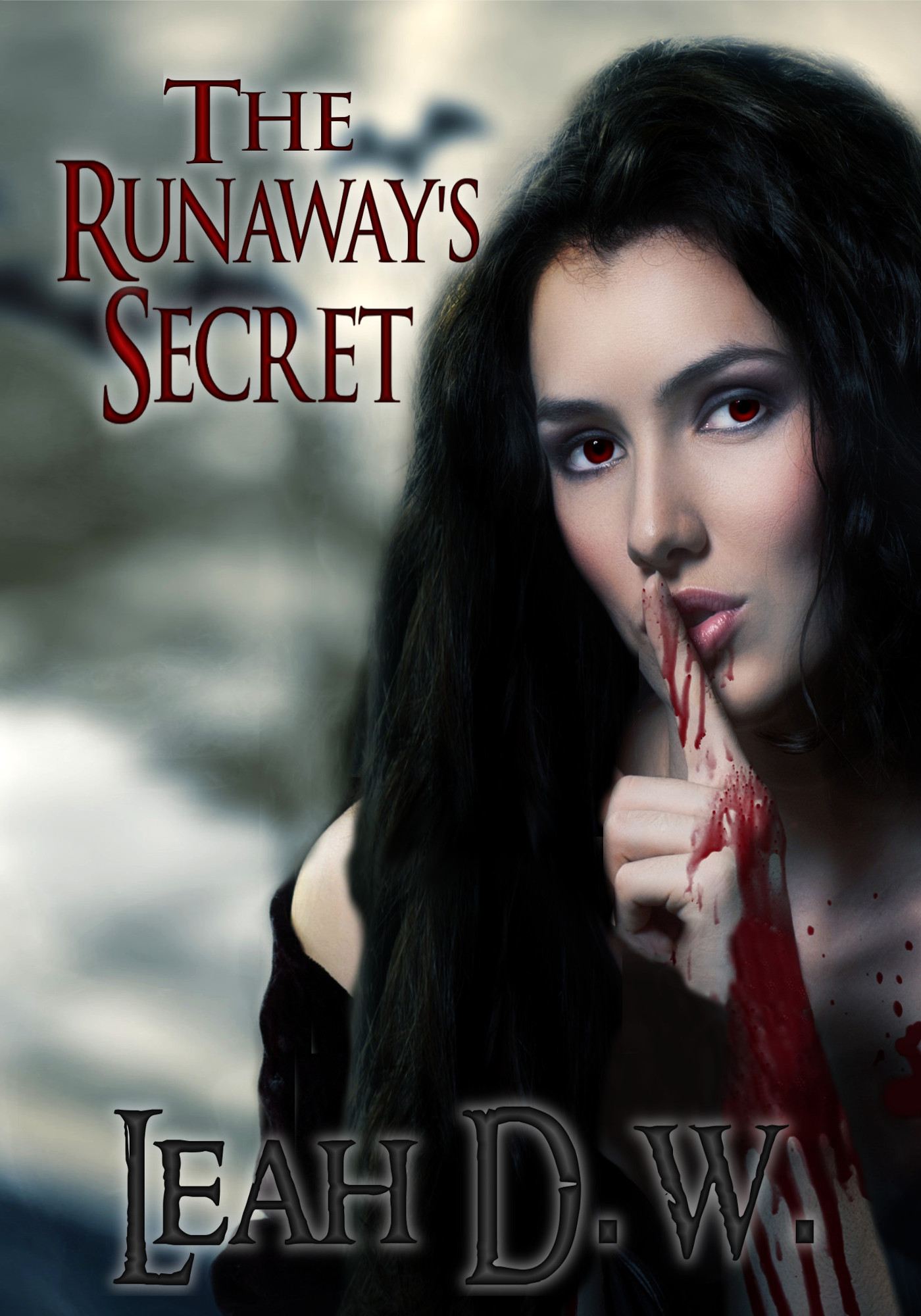 Description:
Running from the past…
Running from myself….
To protect those you love, some secrets should never come to light.
My life changed the night I became the same monster I had been forced to serve all my human years. As a fanged freak, I took to running away from my troubles rather than facing them head-on.
I should have kept running...
My world turned upside down once more when I met Solomon. He promised that I would be safe locked up in a fancy academy filled with supernatural creatures just like me. He promised that I had nothing to fear.
If only that had been true.
How long before the nightmares catch up to me? I'd hated myself for the monster that I'd become and the life I had been forced to leave behind. Sometimes I wished that she would find and kill me, ending this nightmarish existence, but that would mean leaving everyone I had come to know and love as well. Could I possibly do that?
...time is running out, I must make a choice.
...until then, I must keep running.
...must become the monster even I have come to fear.
The biggest challenge of dark fantasy or urban fantasy for a writer
(MB's topic)
For me, it would have to be how the setting of the novel looks like. If a writer can't imagine the place that his or her characters are in then how would the reader? It is especially hard if the writer hasn't even been to that certain place. In my novel The Runaway's Secret my main character grew up in a castle situated in Scotland, travels to a boarding school in London and then settles in an academy in South America. I am from South Africa and have not stepped foot outside of my own country, let alone been to Scotland or South America! In order for me to then tell my character's story I had to rely on research and imagination, a lot of imagination.
The internet is my best friend when it comes to knowing about the place setting of my novels. I use the search to find out what the weather is like in other countries, how do the people interact with each other and what does certain areas really look like, either in the present or years ago. Internet images are a gift! I can see exactly what different places look like and then use my imagination to describe it through the eyes of my characters.
The easiest thing for an author who doesn't know what places look like is just making up your own. My anthology Unnatural is like that. I created a new world for my characters and it looked the way I wished it to be. That is the fun part of being a writer.
When it comes to dark fantasy, basically a fantasy story with elements of horror or seeing through the eyes of 'the bad guy', it isn't as much of a challenge as urban fantasy. To build a character the writer must become the character or, like for me, the character tells me all I need to know. Inspiration can be from a movie, an image or a sad song. I tap into my darker side and the bad guy appears. The challenge here could be that a writer wouldn't know how to write the view point of the evil main character. You won't be sure why he or she is bad and why they want to make things hard for the hero or heroine.
Usually when I write a story I still don't know everything about my bad guy. The character develops over time as I keep writing. Even I am shocked at times when my characters do something I didn't see coming. That is the beauty of being an author! Well that is my opinion anyway. Research comes in handy here as well in order to find out more about a certain paranormal creature or how in history people dealt with what they truly believed to be supernatural. Dark fantasy can come from the distortion of fact or be completely insane. Imagination is a big part in this genre and if the writer doesn't have a wide sense of imagining and creating something from nothing then the feel of life on paper would never appear for the reader.
So, the biggest challenge for these two genres would have to be the writer. The characters know who they are and the land of their world is right there waiting to be discovered. All the writer has to do is see it.
Thank you, Miss Leah D.W.
EXCERPT:
The blade bit deep into the soft pale flesh of my wrist and cold pain ran up my arm, creating the feeling of tiny fingertips caressing my skin. Dark blood seeped from the open cut, black drops falling down my wrist and dripping into the white bowl I was leaning over in the girl's bathroom. It stained the polished porcelain with red streaks that slid down to pool at the bottom around the metallic drain.
I knew it was a big risk to use it while some of the girls were still awake to quench the Thirst, but I couldn't ignore it anymore. I hoped no one would venture to the bathroom at that moment.
I gulped down the lump in my throat and tried not to cut my lip with my fangs as they extended out, two sharp canines stinging sensitively as the Thirst rolled over me in thick choking waves of acid and frost.
I couldn't hear anyone approaching from outside, so I took my time. It was midnight; most of the others would either be asleep or trying to steal ice cream from the kitchen.
The smell of my own blood made my fangs hum and the Thirst burst with need. I lifted my wrist to my trembling lips...
"What the hell?" I raised my hand to bang on the door, but a chuckle made me stop and spin around.
"The new girl and already in the principal's office," the girl smiled mischievously. "We could be great friends."
Her eyes shone silver and a chilling howl rang in my mind from far off. Her smile widened and small sharp canines peeked out from her glossed lips. She held out her hand to me, nails painted black.
"Hi I'm Vee, your new best friend,"
The knock at my door was so loud I grumbled and turned over in bed. The room was drowning once again in the faint un-sunlight of the academy and my hair was a mess across the pillows.
Another knock forced me to get up and go answer it. It was when I had my hand on the doorknob that I realized I was only in panties and the shirt from yesterday, but the knocking continued so I opened the door to the person disturbing my sleep.
"You're late," Solomon said.
He was dressed in black jeans and a white collar shirt that made his eyes stand out with their faint blue.
"Why is that every time you come to visit me I am half naked?" I asked him. "You got a weird sixth sense that tells you when girls are exposed?"
He rolled his eyes at me.
"As long as I'm here I won't let anyone hurt you,"
"Oh please Solomon, I don't need another stalker," I sighed again and flopped down onto the carpet.
He sat down beside me and looked so much like a teenager I was tempted to imagine him as a normal human boy and I was a normal human girl, like I used to be all those years ago.
"You have a stalker?" he asked and I laughed.
"Don't get upset I'll still make time for you," I gave him a sarcastic smile.
"Take her to the holding cells," Hawthorn pointed a finger at me.
Two Trackers approached me and each took an arm in their strong grasps. I tried to struggle as my anger got the best of me.
"What the hell?" I looked at the principal. "Am I under arrest?"
"I warned you about attacking a student in this manor," she told me. "I have no choice but to lock you up and keep you away from the others."
"I wasn't attacking him!" I shouted at her as the Trackers took me away. "It is called making out you old witch!"
About the author:
I am 21 years old and currently a journalism student at my local university. I live in South Africa in a town called Bloemfontein with my family and two beloved dogs. I have been writing since the age of 13 and my first published work is a short horror story titled Dracula's Mistress. I am busy working on a number of novels and I am an editor/proof reader for Bayou Brew Publishing.
I love writing in the genres of paranormal romance, fantasy fiction and historical fiction and I am a proud bookworm with a mountain of reads stacked up in my room. I am also studying criminology in order to be able to write mystery horrors.
The book that has been published is Unnatural, a collection of paranormal short stories that are full of action, adventure and amazing characters.
I also have short stories in various anthologies. Love Kills, Unhappily Ever After; fairy tales with a twist and Soul Games. My novel The Runaway's Secret, a vampire paranormal romance, will be released in May.
Author's Giveaway
a Rafflecopter giveaway