Published September 20th, 2013
Description:
Debbie who witnesses the death of her mother, and uses her dreams as a way to escape the real world. Where she feels safe and loved, in Joshua Lawson's arms, the guy from her favourite TV show Victor, and from her favourite poster above her bed.
Karen is ignored by all her family, she really just wants to be loved by them, and takes out her anger on her former best friend, Debbie and anyone who gets in her way.
Lastly, Mark whose shipped off to the UK to live, while his parents are on tour for the next year. And Mark has always lived in the shadow of his cousin.
1. Big Ben and houses of parliament.
2. The London Eye.
3. Tower Bridge of London.
4. Buckingham Palace.
5. Sandringham Estate – This is the Queens second home.
6. Stonehenge.
7. The Eden Project.
8. Dover Castle.
9. Windsor Castle.
10. Bath Abbey.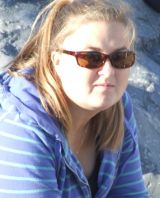 Sarah Hitchcock was born in Norfolk, in a small town called Kings Lynn. She always was a keen reader, and one day decided to attempt to write her own, and never looked back. Today she has many novels in various stages of editing and re-writing. Her current WIP, is in the final stages of editing, and will be out later this year as an ebook.
After finishing high school and then training to work with children, Sarah started her first job. She currently works as a pre-school teacher.
Sarah has four children, and three dogs, and a partner who has had to put up with her rambling on about all her WIP's.
She recalls spending hours thinking about her characters and their storylines. To this day, she often falls asleep thinking about where she can take new and old characters.