"This story is well-written and flows beautifully. The action is non-stop and makes it very difficult for the reader to want to put the book down. The character of Jim was well drawn and although clearly a brave and heroic figure, we are also privy to the weaknesses he carries [...] This is a fantastic read from an author who has much to offer in this action genre. I genuinely look forward to his next offer with excitement."
Grant Leishman, Goodreads
Published: September 2019
Jim Edwards always thought he'd join the military when he graduated from high school. But then he snuck off and married his high school sweetheart the middle of their senior year and his wife Linda got pregnant right away. Jim did not want to leave his new family and get deployed halfway around the world, but he still wanted to serve his country. That's when he decided to go into law enforcement. He talked to his dad about it and he reached out to and old friend for his son. Sheriff George Manning of Sheridan County Wyoming told him that if Jim went to Junior College and got an associate's degree in criminal justice he would give him a chance in his department. Jim worked nights and weekends for two years at a local restaurant to support his young family and also got his degree at Sheridan Community College. Jim was also a damn good heavy weight amateur boxer in Wyoming and even tied the State Champ in a local match before joining the department.
Jim rescued Sheriff Manning and a couple of civilians from a bunch of bikers that had them cornered on a mountain road just before he joined the Department. Later when one of them threatened his wife and child in retaliation Jim's temper got the best of him and he throws the biker a beating he won't ever forget. That starts a series of events that pits Deputy Jim Edwards against the notorious Wild Wolves' Biker Gang and its two leaders. Now Jim has a big problem and even though Sheriff Manning and his top Lt. Al Freeburger think that Jim is the best Deputy they've ever had they don't know if Jim can survive the Wolves vendetta against him. Jim finds himself pitted against not only a notorious biker gang but South American cartels, and corrupt politicians. Jim is smart and good, but he is also young and inexperienced. When it comes to his family's safety he won't compromise and he won't back down. His enemies know this and will try to use this against him. They are going to lure the young Lawman into a death trap and all Jim has is his grit and his wits to see him through.
But this all happened back in 1974, and Jim Edwards is alive and well. He has just recently returned from helping rescue his son, Commander Jacob Edwards from Maximillian's prison down in Central America. Captain Tommy Williams the leader of the rescue has known for a long time that there is something very interesting about Jims past service in the Sheridan County Sheriff's Department. So he uses and opportunity to visit that town with the Edwards family to go there and find out for himself why some "old law dogs" around Sheridan still call it "The Legend of Deputy Jim".
Other Books in the The Last Enemy Series:
Danielle Edwards is no damsel in distress, she's got some big shoes to fill. Being the daughter of the hero of Cozumel Commander Jacob Edwards of the United States Coast Guard put a target on her back.

Now she is in the fight of her life.
Her parents have been gone for three years.
Can she rise up and be what she needs to be. It's going to be a good fight.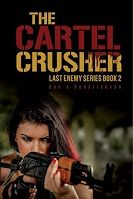 Marnia Gonzalez, oldest daughter of one of Mexico's most popular Presidents, is rescued at sea from being raped and killed by a cartel connected Caribbean pirate, Dominik Thrace. Her rescuer, Commander Jacob Edwards of the U.S. Coast Guard, known as the "Hero of Cozumel" in Mexico, befriends her.

The Cozumel incident causes Marnia to abandon her destiny of becoming a well-connected, high-society powerful woman in politics. Once content with being a member of Mexico's influential, elite upper-class, she decides instead to be like her hero and fight against evil no matter the cost. Her sights are set on the cartels that terrorize people and breed ruthless monsters like Thrace.

She fights against expectations of female roles as she graduates from Mexico's Heroic Military Academy and becomes an officer in the newly formed Anti-Cartel Task Force. Not allowing anyone or anything to hold her back for being a woman, she takes on the ruthless cartels in their own backyards and proves herself capable, becoming called by the people, "The Cartel Crusher". While investigating cartel child sex-slave trafficking, she comes face-to-face with the reality that her own mother's family is the more significant secret power behind the cartels. As she turns her attention to Mexico's most powerful Santiago cartel, a rising power in the secret society orders her death. As the remaining cartels unite to take her down, will she be able to trust her relationship with the son of one of the South American rival crime bosses? Will he help her, as promised, or betray her? She needs to dig deeper than ever before to withstand the combined onslaught. Will Santiago prevail yet again, or will Marnia survive the mass assassination? The future of her hero's family depends on her more than she yet knows.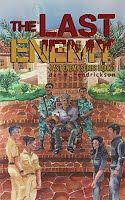 Danielle Edwards and Marnia Gonzalez have one huge thing in common. They both adored, loved, and looked up to Commander Jacob Edwards. Although Jacob is Danielle's real father and not Marnia's she still looks to Jacob as a father figure. Danielle was raised by the Hero of Cozumel and Marnia had her life saved by him. He has deeply impressed both of these young women with a high moral compass and a passion to do what is right no matter the cost. Now, after three years of believing he is dead Marnia has found proof of his being alive. Not only Jacob, but his wife, and mother somehow survived the tragic plane crash over the pacific ocean three years earlier. In book three, The Last Enemy, these two incredible women will join forces and along with the help of family, friends, and one of the most formidable Seal Team commanders alive embark on a quest to rescue The Hero of Cozumel.

Dan Hendrickson
was born in Sheridan Wyoming near the rustic Big Horn mountain range in 1962 to Carl and Helen Hendrickson. Dan went to school in the Sheridan School District graduating from Sheridan High School in 1981. He spent his athletic time participating in boxing, martial arts, wrestling and a little track. His father Carl owned a small eight lane bowling alley that he ran until Dan was 12 years old. After losing the business to the bank he was forced to go back to school and finish his masters in English. Dan picked up on his father's love of the written word and enrolled in Casper Community College in 1982 majoring in journalism. Although he found that he had an aptitude for investigative reporting he decided that his desires lied in other areas. He went on to do much volunteer Christian ministry work throughout the United States most of his adult life and continues to pursue those endeavors to this day. During that time he gained another degree in Practical Theology and throughout his many ministry assignments work several secular jobs. Most notable were his auto detailing endeavors. He and his wife Cheryl have owned three different detailing businesses throughout the country the last of which they still run to this day. Recently he has returned to his passion of telling stories and has several books in the process of being published.