17+
"
This is one of my favorite series, I have read it a few times which is rare for me. I have fallen in love with each and every one of the characters. Each and every one of them will steal your heart, make you feel what they feel and have you laughing along with them every step of the way
. "
Cynthia, Goodreads
Part One – Books One thru Four
As with all the Rockstar books, this book contains mature content and may be deemed inappropriate for persons under 17 years of age.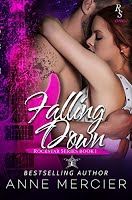 Falling Down - (Rockstar #1)
I was twelve when I started crushing on him.
I was seventeen when I met him by chance and our connection was made.
Now here I am, twenty-three, and I'm one of the two actresses in the video for his band's latest single.
Jesse Kingston is a tall, dark, and gorgeous temptation I'm finding hard to resist. It ends up not being as simple as doing a job and going home. It can't be when he continually makes his presence known with his not-so-innocent touches and sexy words. There is no avoiding him and after spending so much time with him, I'm not sure I want to.


So, when he proposes a weekend together, knowing I should say no, I throw caution to the wind and instead I say yes. I'm going to ignore the warning signs and do what I normally wouldn't—I'm going to give in to my desire. I'm going to indulge my fantasies and give this sexy rocker what he wants and something he won't forget—me.
The only question is: Is one weekend going to be enough? Will our time end up changing this bad boy? Or will it end up changing me?
I recommend listening to the playlist whenever possible to get the full effect of the story (Listed at the back of the book).
DISCLAIMER!
If you're unable to suspend disbelief and escape to the Rockstar Land of Fiction, then this book probably isn't for you. This is NOT a dark romance. There will be MINIMAL angst or drama. There will be lots of laughs, frequent dropping of the F-bomb, and crazy monkey sex.
You know how people say they woke up in Vegas married and you're like, how the hell could that possibly happen? Who does that? Well, us apparently… and the press is having a field day.
Let's not even get started on the topic of my mother. Then there's my grandpa wanting to meet my new husband--that's not scary at all. On top of that, we're heading out on tour and I'm a nervous wreck--factor in the fact that Jesse's newly changed marital status doesn't seem to be an issue for the groupies. Nothing deters them. Not even the fact that I'm standing right there when they proposition him.
I can handle the press, my mom, and even my grandpa. But the women who are ruining my current mood of "happy", well, they've got another thing coming. It's time to put these women in their place because nobody messes with my happily ever after.
The first Rockstar Christmas. A short story—told Xander Style.
DISCLAIMER: This story contains grief, loss, sadness, darkness, light, happiness, angst, swearing, explicit sex, graphic violence, new beginnings, and soulmates. You may need tissues.
Sera
He's my protector, my confidante. Then one night he became more. I want him, I need him, and, if I'm honest with myself, I love him. I just don't know if he'll ever see me as more than what we've always been: friends. I don't want to lose him but it's getting harder and harder to keep my feelings to myself. Should I risk it all or play it safe?
Cage
She's my light, my saving grace. The night we came together I knew I could never live without her. I want her to be mine: my lover, my friend. Maybe, if I can get her to see past all the reasons why we shouldn't be together, she'll be my forever. It just might be time to turn it up and go for broke.
Anne Mercier
is the author of the bestselling Rockstar, Forbidden Fantasies and The Way series. She was born and raised in Wisconsin and still lives there today.
She's an avid reader who gets inspired by reading the stories from her favorite authors as well as listening to various types of music. She is a huge fan of music, chocolate, fruit, desserts, autumn, M. Shadows, Avenged Sevenfold, and Milo Ventimiglia. Through her books, she is proudly creating new Avenged Sevenfold and Milo Ventimiglia fans one reader at a time.
Author's Giveaway
a Rafflecopter giveaway