Description:

Some things change...

It's been three years since Kaylee Sawyer has been home—home to the alcoholic mother she can't handle, home to the painful memories of her sister Ella... and home to the guilt she's carried for years. About to enter her final year of college, she is determined to come to terms with the mess of her past—and to ignore the guy whose single kiss has been tattooed into her mind forever.

Some things stay the same...

Dylan McKay is still golden haired and dangerous, the flame Kaylee was always afraid to touch for fear of getting burnt. But despite the damage that's been done, she finds that she still can't stay away from the one person who accepted her the way she was.

Some things are meant to be.

Kaylee is no longer the innocent girl she once was. Though tragedy ripped them apart before, one look from Dylan brings all of the old feelings rushing back. Torn between her past and her future, she's not sure if a person can ever truly go home again.

But Dylan doesn't plan to let her go without a fight.
Book#1
Description:
A fresh start...
It's been three years since Serena King learned to say no—no to the boys that were a desperate cry for help, no to the extra weight she put on in self defense, and most of all no to the abuse that has haunted her since she was fifteen. Now a sophomore in college, all she wants is to be normal. The last thing she expects is a guy who can make her want... make her want everything.
A new guy...
Alex Blackthorn is a bundle of contradictions, a sexy dark haired badness who goes slow... deliciously slow. And despite the iron will that has gotten her through the last few years, Serena finds herself unable to ignore the heat that sizzles between them whenever they're together.
A dark past...
Serena never thought she could be involved in a relationship, but Alex makes her long for things she thought were out of her reach forever. When he finds out her secret... when he finds out what she did to keep herself sane... will he still want her, or he will treat her just like everyone else?
And Alex has a secret of his own.
EXCERPT:
He wasn't supposed to notice me.
But as the two of us hovered awkwardly in the hallway, outside of the closed door to our American Lit class, he looked me right in the eye. His left hand rumpled the raven dark spikes of hair on his head as he grinned at me sheepishly.
He caught me at a rare moment in which I was off guard and slowly, tentatively, I smiled back.
"Tardiness will not be tolerated." His mimicry of the professor, and the words the man with elbow patches on his sweater had spoken the first day of class, startled a laugh from me. He seemed to like that, and as he shifted weight from one foot to the other I studied him, daring to look more closely than I ever had before.
I'd noticed him. How could I not have? But I'd always forced myself to look away. Boys like him weren't for girls like me.
He was tall, nearly a full foot taller than me. Eyes the color of the sky at night peered out from beneath a long, thick fringe of black eyelashes, lashes that any girl would kill for and that he, being a boy, likely didn't appreciate.
His face was a study in sharp angles and planes, his lips full and soft in contrast. Black ink, indelibly etched into his skin, peeked out the neck of his black T-shirt, and I could see it on his biceps, too, when he moved.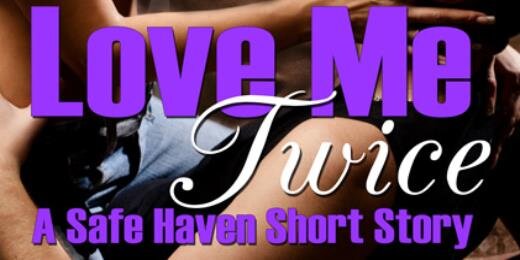 The tattoos were at odds with the clean cut image he otherwise emanated. He was too damn good looking, the kind of guy that, in high school, had been happy to spend time with me in dark closets, under the bleachers, or in the backseat of a car, but who would scorn me in public, ashamed to associate with that girl.
Except he didn't seem ashamed, even though I was dressed in my usual uniform of faded blue jeans, a plaid flannel shirt open over a tank top. My long blonde hair was in a tight braid, with pieces left down deliberately, so I could hide behind them if I needed to.
I frequently did. I would shake the ribbons of flaxen hair over my eyes, eyes that were blue but were so pale in comparison to his that they scarcely seemed the same color.
Those eyes widened when he grinned casually, hiking his backpack up further on his back.
"Well, no way he'll let us in now." This professor liked to verbally humiliate anyone who tried to sneak in once the door had been closed, and he had a sharp, acerbic tongue that I was in no rush to receive a lashing with.
"Right." I tried to smile, tried to act like a normal girl, but found myself shaking those long strands of hair over my face instead. I dropped my gaze away from the boy in front of me, all the way down to the tips of my black sneakers.
It felt... almost... like he was flirting with me.
I knew bette
r
.