From USA TODAY bestselling author H.B. Moore
Undercover agent Omar Zagouri has been ordered to Giza. A prominent Egyptologist was murdered, and a priceless artifact—the only complete version of the Book of the Dead—is missing.


Undercover agent Omar Zagouri has been ordered to Giza. A prominent Egyptologist was murdered, and a priceless artifact—the only complete version of the Book of the Dead—is missing. Omar is still reeling from the recent disappearance of his girlfriend, Mia Golding, but he puts his quest to find her on hold to track down the lost piece of history.
Omar's mission is not just to locate the sacred book; he must also rescue the two archaeologists kidnapped and forced to translate its hieroglyphics under threat of death. Their kidnapper is determined to discover the text's rumored explosive revelation: that Moses did not receive the Ten Commandments from God but instead copied them from the Egyptians. Though Omar's need to find Mia grows more urgent, he must focus on finding the enemy who will stop at nothing to ignite a controversy that will change history, and the world, forever.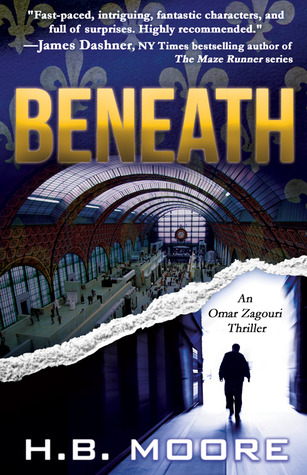 Chalice Stratford's hands
won't stop shaking. Since the serial killer who tortured her is still at large, she's had to enter the witness protection program and give up the medical practice that required her steady hand. Now she is working in a museum in Bordeaux, France, and doing her best to keep a low profile.
On the first day of her new job, the last thing she expects is to be abducted in a theft gone wrong. But Omar Zagouri, the man behind the heist, is more than he appears, and Chalice soon discovers that he might be the one man who can put her demons to rest.
For centuries, historians have speculated
that the Queen of Sheba is nothing more than a seductive legend; but when undercover agent Omar Zagouri finds a tomb in a tunnel beneath Jerusalem, he unearths cryptic clues that may lead to the queen's final resting place.
This discovery, if authentic, could throw into question the governmental claim to the Holy Land—and prove the Bible false. Wealthy collectors, ruthless archaeologists, and officials from Egypt, Ethiopia, Israel, and Yemen scramble to find and lay claim to the secret site.
Dr. Richard Lyon of Brown University, the world's leading expert on the queen, is found murdered in his office, setting off a chain of deadly events. Omar desperately works to piece together the puzzle to locate the queen's burial ground, fearing another assassination will take place. He teams up with one of Lyon's protégées as well as with his ex-girlfriend, agent Mia Golding, in order to unravel the truth about the queen, expose a murderer, and reveal a timeless story of love, revenge, and sacrifice.
H.B. Moore is the USA Today bestselling and award-winning author of more than a dozen historical novels set in ancient Arabia and Mesoamerica.
She attended the Cairo American College in Egypt and the Anglican International School in Jerusalem and received her bachelor of science degree from Brigham Young University.
She writes historical thrillers under the pen name H.B. Moore, and romance and women's fiction under the name Heather B. Moore. It can be confusing, so her kids just call her Mom.
Open only to those who can legally enter, receive and use an Amazon.com Gift Code or Paypal Cash. Winning Entry will be verified prior to prize being awarded. No purchase necessary. You must be 18 or older to enter or have your parent enter for you. The winner will be chosen by rafflecopter and announced here as well as emailed and will have 48 hours to respond or a new winner will be chosen. This giveaway is in no way associated with Facebook, Twitter, Rafflecopter or any other entity unless otherwise specified. The number of eligible entries received determines the odds of winning. Giveaway was organized by Kathy from I Am A Reader and sponsored by the author. VOID WHERE PROHIBITED BY LAW.
a Rafflecopter giveaway