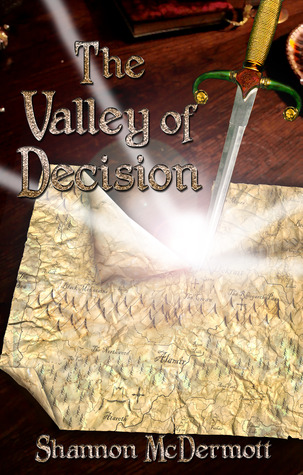 Published: May 31st, 2014
Where the Black Mountains pierce the sky, they divide the south from the north, Alamir from the kingdom of Belenus. Belenus, the undying master of the north, commanded Keiran – the Captain of the Hosts – to conquer Alamir. But the Captain is deep in conspiracy, and he has his own plans.
The Valley of Decision is a fantasy novel, a saga of slavery, freedom, and choices.
The Dochraitay possess the unhappy distinction of being the foremost servants of Belenus. They fight his campaigns against Alamir and the Islemen, they grow the crops and hunt the animals eaten by the Fays, they give up their children for the mines and the army and the palace of Muireach.
They are isolated there, between the mountains and the sea and the Coldlands. The Dochraitay have no traffic with other peoples, except to inflict Belenus' will on them. No strangers enter Dokrait unless they are brought there as captives. The Dochraitay are sure they own such captives. Doesn't Belenus own them?
There are elders and provincial officials and other petty rulers in the Dochraitay towns. But the real power is in the Captain of the Hosts, who commands Belenus' armies. He may do what he pleases with his fellow Dochraitay, as long as it pleases also Muireach, and Belenus with him. Belenus does not reward many of his servants, but a Captain such as the present one – fearless in the use of power and masterly in the use of armies – receives much.
And even he is a slave of Belenus, living and dying for the will of his master. The Captain of the Hosts he may be, but still a mortal, and still a Dochraitay.
Shannon McDermott is a Christian author of speculative fiction, as well as a humorous detective series called "The Adventures of Christian Holmes". She has written both fantasy and science fiction, and has yet to decide on which one to like better.
She was born to Wisconsin, expatriates in California, grew up on the East Coast, and now lives in the Midwest. Her principal hobbies are politics, history, novels, and coffee.
Author's GiveawayS
a Rafflecopter giveaway
a Rafflecopter giveaway