That's all Layla cares about. Not healing from the Fomore attack. Not finding answers to how she survived a fall that nearly killed her. Nothing will stop her. She will find him. She'll even pair up with an overbearing Fallen Angel who's hell bent on making everything harder than it needs to be if she has to.
For Max, nothing else matters. Not the bruises covering his body. Not the pain radiating from his broken bones. Not even his hands tied behind his back. He will find a way to save Layla, and the Fomore will pay if they've hurt her.
Every. Single. One of them.
In the second installment of The Fire Born trilogy, a new breed of villain looms—one Layla and Max will never suspect, and this killer has nothing to lose. Better yet, with Max and Layla's deaths, victory is in the grip of the enemy.
Will Max and Layla find each other in time, or is it already too late for them both?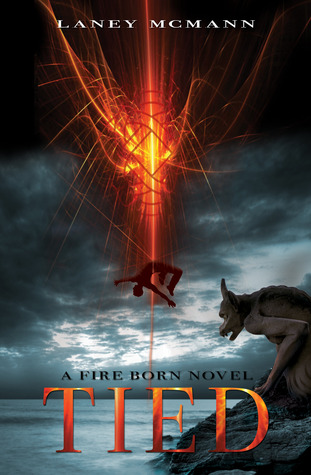 Read our review for Book #1 Tied HERE
Normal people don't believe their nightmares stalk them. They don't fall in love with boys who don't exist, either.
Seventeen-year-old Layla Labelle, though, is far from normal. Her delusions walk the earth. Her hallucinations hunt her, and her skin heats to a burn every time her anger flares.
Or is that all in her head?
Layla doesn't know what to believe any more because if none of that's true, Max MacLarnon must be an illusion, and her heart must still be broken.
No matter how much she wants to believe Max is real, doing so would mean everything else is, too. How, then, is that possible?
The answers lie in an age-old legend the supernatural aren't prepared to reveal, and with a curse that could tear Layla and Max apart forever—if it doesn't kill them both first.
In TIED, book one in the Fire Born trilogy, learning the truth will mean fighting an arsenal of demons, and being with Max will put Layla on a path toward her own destruction.
Just how far will Layla go to protect the one she loves?
The answer may never be far enough ... away.
Thank you, Mrs. Laney McMann
How important and how difficult is to create the right atmosphere for a fantasy story?
LM: Honestly, it depends on the story and how deep I'm planning on going. The atmosphere in the Fire Born Novels is a combination of 'otherworld' and the modern world, so some scenes were easy, as I see the modern world clearly everyday, while other scenes took a lot more creativity and time to create.
What is the biggest mistake that a writer could do when playing with parallel worlds and times? How can this mistake be avoided?
LM: I'm not sure there are glaring mistakes that jump out at me, but speaking of time, a writer does need to know what time it is one world compared to the next. In other words, if it's six at night in New York City, it probably shouldn't be exactly the same time in another world, but then again if it's a parallel world ... why couldn't it be? :) The nice thing with fantasy is there aren't a lot of rules to abide by. It's up to the writer's imagination. Granted, you do want your story to make sense and be believable. It's a balance act.
Do you believe there is a recipe for a good fantasy story? What differentiates a good story from an extraordinary one?
LM: I believe good fantasy needs to push the limits and try not to be predictable. I like surprises. This can be tough for even the most skilled writers, as some readers can always figure 'it out' regardless, but overall, I think great fantasy is about the unexpected. New creatures, twists and turns the reader didn't see coming, and ultimately throwing the main characters into a world of major problems.
Why do you write dark fantasy and what dark brings to the fantasy?
LM: I write on the dark side of fantasy because I'm fascinated by the otherworldy in that way. I don't like horror, at all, but I do like the idea of myths and legends being true, coming back to life, having a real basis in our history, and I guess since I believe all the wive tales and folk lore come from real events, I'm driven by those dark ideas. I'm a questioner, and I believe there is more to the world than what we see, so that belief carries another element into my fantasy. Through my stories, I get to answer some of the darkest questions I have and hang out with creatures that fascinate me.
How important is Torn for the Fire Born trilogy?
LM: Extremely important. The Fire Born trilogy is taken to an entirely new level with TORN. So much so that it's hard for me to even compare TIED with TORN. The story has grown exponentially in ways even I didn't see coming.
With a passion for the supernatural and all things magical, Laney developed a voracious appetite for reading fantasy at a young age. A vivid imagination helped set the stage for creating her own worlds and placed her onto the writing path.
By the time she reached her teens, she'd accumulated notebooks full of poems, which led to short stories and finally novels. Young adult dark fantasy, paranormal romance, and mythology are among her favorite genres.
A former classical dancer and chef, she grew up in sultry Florida where she still resides with her family.