At forty, Dr. Minnow Saint James, "Minn" to his friends, is a gay, metaphysical sleuth who, through Past Life Regression therapy, spans time, space, dimensions, and the entirety of God's Creation to discover the past, or future, life origins of his patient's most challenging present day problems.
Description:
Published: January 26th, 2016
For gay, metaphysical sleuth Dr. Minnow Saint James, the workplace spans time, space, dimensions, and the entirety of the vast, incomprehensible affair that is God's Creation.
At forty, Dr. Minnow Saint James, "Minn" to his friends, is a gay, metaphysical sleuth who, through Past Life Regression therapy, spans time, space, dimensions, and the entirety of God's Creation to discover the past, or future, life origins of his patient's most challenging present day problems.
Minn did not always hold his current beliefs. He was born into an affluent, atheistic, Republican family in Beverly Hills, California, and raised to believe only what his five physical senses reported.
In 2001, after receiving his doctorate from UCLA, Minn opened a highly successful traditional Hypnotic Regression therapy practice in Beverly Hills.
For six years he enjoyed his life, until a patient spontaneously regressed herself to a past life in Eighth Century Coba, turning Minn's world upside down. Soon he was questioning his entire worldview.
Now Minn is hoping that his past just might save his future.
How Auntie Diana Changed My Life
by Dr. Minnow Saint James as told to Christopher Stone
My Auntie Diana (Hughes) is something else: Having starred for eight seasons as the title character's intrusive mother in the broadcast network sitcom smash, The World is Pete's Oyster, she went on to headline her own TV hit, Della's Boys. But, in my hazel eyes, Auntie D is so much more than one of America's most recognizable faces – a beloved TV star. My Emmy-winning auntie is, and has always been, my confidante and protector. Edging seventy-years-old, Auntie Diana, assisted by a battery of plastic surgeons, has seen to it that her beauty and glamour remain intact, undiminished by time.
Going beyond confidante and protector, Auntie Diana has twice been the catalyst for major change in my life.
I had been a sexually clueless boy of twelve the first time Auntie D had acceleration my personal development. It had happened when she walked in on me unexpectedly, catching me as I sang along with the radio to "Hopelessly Devoted." At the time, I was also pretending to be Grease's Bad Sandy, dancing provocatively with a broomstick Danny Zucko.
Although I had always sensed being different from the other boys at Buckley, the exclusive private school I attended, I had not defined the nature of my difference – that is, not until auntie walked in on my gay reverie.
That's when I realized I had much more than an affinity for cracking wise in common with the men I'd seen in
The Boys in the Band
, on a late night TV movie showcase.
Having walked in on this "Bad Sandy," draped around "her" broomstick Danny, Auntie D had been cool, discrete, and without comment, or judgment. I had frozen in embarrassment with her entrance. But she never mentioned what she had seen to my parents or, to anyone.
Twenty-one years later, auntie was once again my catalyst for personal transformation. At age thirty-three, I was a highly successful Hypnotic Regression therapist, Beverly Hills' go-to doc for finding the origin of your adult problems in the childhood and adolescence experiences one remembered under hypnosis.
Reluctantly Auntie Diana had agreed to my edgy therapy, hoping to find the youthful origin of a phobic fear she had of her then boyfriend, Girlie Magazine King, Doug Blinko. Although auntie described Doug as gentle and kind, easy go and loving, whenever the guy approached Diana, he gave her what she called, "the heebie jeebies."
After auntie had made herself comfortable upon my therapy couch, I induced hypnosis. But instead of traveling back to her childhood, or adolescence, as I had suggested, Auntie D, disowned her name, claiming that she was not Diana Hughes, but, instead, Kisa Kitza Itsa.
As if denying her own name were not enough, auntie claimed that she (Kisa) was a teenage girl, embroiled in a forbidden love affair with her brother, Yum Kaax, in the Mexican Yucatan, circa 752.
With auntie's startling claims, my pragmatic worldview had been shattered. You see, at the time, I was a so-called practical man. I scoffed unmercifully at God, metaphysics, and religion. I believed in nothing that my five physical senses could not perceive. In my eyes, past lives and reincarnation were the domains of people who were unable to face the fact of their own mortality.
Still I felt compelled to learn what had prompted the nonsense dear Auntie Diana had reported under hypnosis. Why in the world had she taken leave of her senses, reporting folderol and foolishness while in trance? My colleagues' speculation did nothing to answer the many questions I had, nor could I find satisfaction within the scientific journals I devoured greedily, as if they were salted peanuts.
Eventually my quest for answers led me to conduct experiments at UCLA's officially nonexistent Parapsychology Lab.
I didn't like the answers that months of experiments yielded. Finally I was compelled to wave the white flag as regards my faulty worldview, begrudgingly admitting that God, past lives, and reincarnation are real. So, once again, auntie had been the impetus for turning my world inside out, and upside down
Now if only she could find me a suitable boyfriend.
Born in Bronx, New York, and raised in Fresno, California, Christopher Stone's early years were dominated by school, watching television and motion pictures, bicycling, skating, and reading avidly. Summers were spent swimming, and doing whatever it took to survive the oppressive San Joaquin Valley heat. But he also remembers fondly the yearly summer trips to New York, to visit family and friends – and to see Broadway shows.
Christopher left Fresno, for Hollywood, California, during his college years after being accepted into the Writers Guild of America's Open Door Program, a two-year, scholarship, training ground for aspiring screen and television writers. As it happened, rather than a teleplay or screenwriting gig, his first professional writing job was in journalism – as the Los Angeles Editor for Stage Door, at that time, Canada's equivalent of the U.S. entertainment trade weekly, Variety.
Christopher would later use his Writers Guild of America training to co-author and sell the original screenplay, The Living Legend, with Jon Mercedes III, to the Erin Organization, and later, and also with Mercedes, to write two seasons of The Party Game, a Canadian TV game show.
As a young freelance entertainment journalist, he contributed to many Los Angeles-based publications, among them The Advocate, for which he wrote a breezy film column, "Reeling 'Round," and the Los Angeles Free Press. During this time, he became a member of the Los Angeles Drama Critics Circle.
Christopher dipped his toes into the world of motion picture advertising and publicity, as assistant to the West Coast Director of Advertising and Publicity for Cinerama Releasing Corporation, in Beverly Hills. At the same time, he also did special advertising and publicity projects for 20th Century-Fox. Christopher went on to become an Account Executive for David Wallace & Company, a public relations firm specializing in entertainment accounts – and located on West Hollywood's legendary Sunset Strip.
Returning to his first love, writing, Christopher became a full time freelance contributor to national consumer publications including Us, Good Housekeeping, Family Circle, McCall's, In Cinema, and The National Enquirer, among others. Many of his stories were syndicated worldwide by the New York Times Syndication Corp.
Another important area of endeavor for Christopher Stone was Re-Creating Your Self. A Blueprint for Personal Change that he first developed for himself, the journalist went on to teach the principles and processes of Re-Creating Your Self to others – first, in private sessions, later, in workshops and seminars, and, finally, for California State University Extended Education. Eventually, one of his students suggested he write a book version.
Re-Creating Your Self was first published in hardcover by Metamorphous Press, and subsequently published in a trade paperback edition by Hay House. It has since been published in Spanish, Swedish and Hebrew language editions.
When not writing, Christopher used his longtime interest in, and study of, metaphysics, to teach meditation and psychic development classes – first in Beverly Hills, then later, in Manhattan Beach.
He went on to co-author, with Mary Sheldon, four novellas for a Japanese educational publisher, and then, also with Mary Sheldon, the highly successful The Meditation Journal trilogy of hardcover books. Subsequently, he returned to journalism, this time, contributing hundreds of print and online entertainment features, columns and reviews to magazines and websites. For eight years, Christopher was the Box-office Columnist for MatchFlick.com, a popular online motion picture site.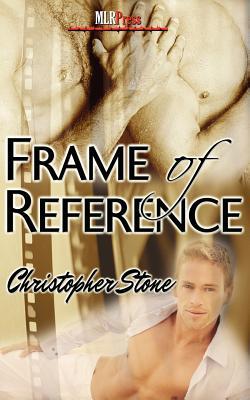 In his private life, Christopher Stone met David M. Stoebner on May 17, 1994, and they have been together ever since. 
In 2008, they were married in Los Angeles.
They share a home with their three pets in Coastal Los Angeles County.
In 2013, Christopher's pet project has been transforming their rarely used kitchen table area into a killer, retro 1950s Diner Nook, complete with a 1952 Seeburg Table Top jukebox, a neon diner sign, and a malt machine.
Christopher's first novel, Frame of Reference was e and print published, in fall 2012, by MLR Press. A short story, Sweet Homo Alabama was published by MLR Press, December 19, 2012.
Stone spent much of 2013 writing Frame of Reference 2: The Dark Side of Stardom, a sequel novel to Frame of Reference, as well as, Abracadabra, and a short story, published at Halloween. But the indefatigable scribe also found time to contribute weekly reviews, columns and interviews to Queer Town Abbey.
As 2014 begins, Christopher looks forward to the publication of The Dark Side of Stardom, and he is developing a short story, Camelot Conundrum, as well as a metaphysical mystery novel, Going and Coming.