POWER OF FIVE Series by Alex Lidell is complete with LERA OF LUNOS available now and that I get to share the news!
If you haven't yet heard about this wonderful series by Author Alex Lidell, be sure to check out all the details below.
Release Date: January 4th, 2019
Two immortal realms on brink of war. One mortal standing in their way.
With the quint squaring off against the king of Slait, Lera is running out of time to tame her feral magic. Worse still, just when the quint must weave together to survive, demons from Tye's past surface to tear them apart. Demons he fears facing, let alone sharing with Lera.
But when Griorgi makes a move that no one expects, throwing River, Shade, and Coal's lives into question, the clock runs out. Lera and Tye have no choice but to fight their battles within—or risk losing Lunos and their quint forever.
LERA OF LUNOS is a full-length reverse-harem fantasy novel, the stunning finale to the Amazon-bestselling, KU-All Star POWER OF FIVE series.
"There was rather little incentive to follow the rules at that point," Tye said simply. "And smuggling pays well." He swallowed painfully, unable to look at her for this part, to see in her eyes the moment she realized he'd been right to push her away. "Now do you see why I thought you should go with Shade? If it were up to me, Lilac Girl, I would never let you out of my sight for the rest of my life. But it isn't up to me, especially now that you know the full truth. You deserve better, Lera. You deserve the world."
Silence trailed at the heels of Tye's words, the cave around them a capsule of secrets. Each memory shoving itself insistently from its hiding place in the depths of Tye's mind drove another needle into his soul. Fingers tightening on the rough stone, Tye inhaled the damp, mossy air and awaited judgment.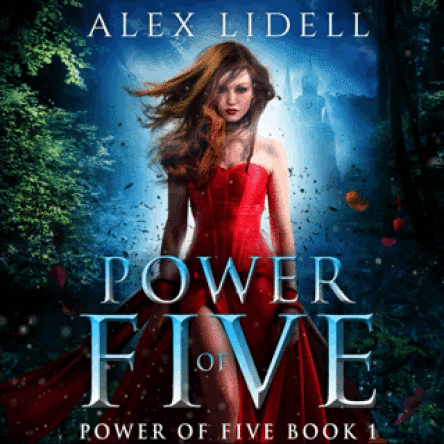 Several heartbeats passed before Lera rose to her knees, her cool hands gripping Tye's face. Tipping it to look so deeply into his eyes that Tye felt his soul bared beneath her intense chocolate gaze. Stars, if the girl could make him feel so vulnerable with one look, what could she do with a word? A step? Fear crackled along his veins, but when he tried to pull back, to escape for a bit of air, Lera would not let him.
"I see you, Tye." Her words rang gently through the cave, stopping Tye's heart. "And I want you. Not for play. I want you for you, forever."
Tye's blood stirred, waking him to Lera's words. She wanted him.
She wanted him.
The way he'd always longed for her but had been so certain she would never feel in return. He stared into her eyes, hardly daring to believe it.
"And I want forever to start now, Tye," she said quietly.
Alex Lidell
is the Amazon Breakout Novel Awards finalist author of THE CADET OF TILDOR (Penguin, 2013). She is an avid horseback rider, a (bad) hockey player, and an ice-cream addict. Born in Russia, Alex learned English in elementary school, where a thoughtful librarian placed a copy of Tamora Pierce's ALANNA in Alex's hands. In addition to becoming the first English book Alex read for fun, ALANNA started Alex's life long love for YA fantasy books. Alex is represented by Leigh Feldman of Leigh Feldman Literary. She lives in Washington, DC.
Join Alex's newsletter for news, bonus content and sneak peeks:
1 winner will win a $10 Amazon GC International.
1 winner will receive a
POWER OF FIVE Journal
, US Only.
1 winner will receive the complete POWER OF FIVE series in eBooks, International.