"If you think things are sleepy in the desert, think again! Live On TV3 Palm Springs is a real-life TV soap opera!" – Jon Herz, Fox Sports commentator and former sports anchor at KESQ News Channel 3 Palm Springs
Release Date: October 10th, 2018
Twenty years before Murder at Broadcast Park, Stewart Simon own the ABC TV station in Palm Springs. His future general manager, Lisa, was just starting her broadcast career at the ABC affiliate. There was no better place to be in local television in the 80s and early 90s then Palm Springs, California. Home of Bob Hope, President Gerald Ford, and yes, Sonny Bono, just when he began thinking about politics. The TV station in this small resort town and golf capital of the world was at the center of it all.
Read about Lisa's rise up through the newsroom to sales and eventually how she ended up marrying the second best love of her life….instead of the man that owned her heart. And during all of this Sonny Bono runs for Mayor of Palm Springs (and then cancels Spring Break!).
Enjoy this entertaining read and once again peek behind the curtain of a local TV station through the creative, witty, writing of Bill Evans, a former TV General Manager himself.
"In this era of Fake News, it is great to see the authenticity of Bill Evans' LIVE on TV 3. The prequel to his page-turning Murder at Broadcast Park is every bit as exciting andcompelling as the original. If you want to understand the inner workings of Local TV with a great mystery thrown in, do yourself a favor and pick up a copy of LIVE on TV 3. You will love it."

– Ted Dawson, Former Sports Director at TV3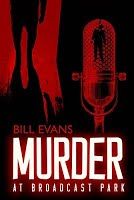 Before this current age of broadcasting acquisitions and mergers, local TV stations were owned by the broadcasters, not investment firms. They lived to tell the stories of their communities. In Murder at Broadcast Park, the CBS station located in the rich resort town of Santa Barbara becomes it's own story. "We never want to be our own news," was the mandate from Barry Burke, the station's news director. Except in this case, people are dying. With three murders, more affairs, but no suspects, investigators peer behind the scenes of the local news. Pull the veil off to find twists, turns, and secrets behind the scenes of this resort TV station and its cast of TV professionals. Nothing is off limits.
Bill Evans
is a 45 year broadcast veteran turned author. His first novel, Murder at Broadcast Park, released October, 2017. With his experience and insight into what goes on behind the scenes in the broadcast world, Bill's novels paint a vivid picture of what really happens when the cameras are off.
Bill resides on California's beautiful Central Coast. He continues to have a passion in the broadcast world and working in local media.
Author's Giveaway