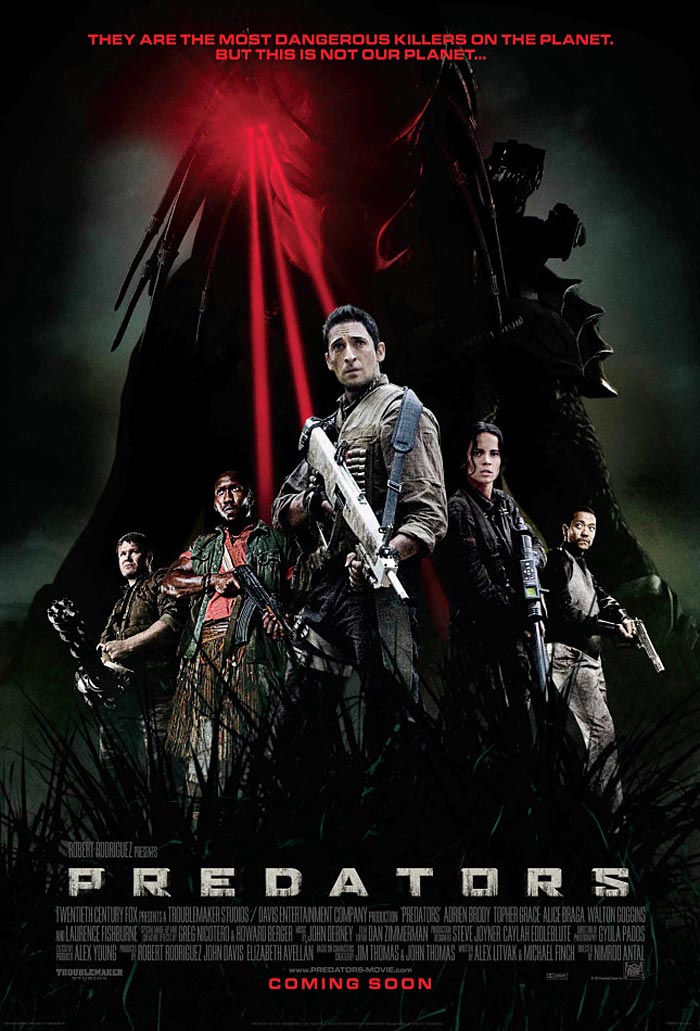 RECENZIE
Și ca să vedeți că nu am spus prostii cu privire la The Hunger Games, astăzi vreau să vă propun un film cu adevărat de acțiune, cu o tematică asemănătoare, dar de o cu totul altă factură. Filmul îl vom înscrie în maratonul de Crăciun de pe 26 decembrie.
Am zis să scriu despre el tocmai pentru a face o paralelă la Jocurile Foamei cu toate că nu este unul dintre cele trei filme menționate atunci și că veni vorba, ăsta era subiectul, nu critica sau admirația. Poate nu am fost prea explicit? Am adus aminte (pentru cine-l cunoaște) de Predator din 1987 cu Arnold Schwarzenegger și regizat de John McTiernan, iar dacă nu l-ați văzut, îl recomand cu căldură nu doar fanilor SF, fiind unul dintre cele mai bune filme de acest gen. Nu contează că e de acum 25 de ani, e "marfă" sau "super" cum ați zice voi acum.
Revenind la filmul nostru, el se intitulează Predators, este din 2010 şi regizat de Nimrod Antal. Este al treilea film al seriei, dacă le putem numi așa din punct de vedere cronologic. Nu includem aici Alien vs Predator, franciza ce a împletit cele două faimoase serii datorită jocurilor video cu același nume, dar care nu poate sta alături de originale prin prisma calității. Așa că primul este Predator, al doilea Predator 2 din 1990 cu Danny Glover în rolul principal și al treilea este Predators cu Adrien Brody. Aș fi vrut să vă fac o surpriză plăcută cu primul, însă nu am mai găsit pe nicăieri DVD-ul. Nu fiți supărați și acesta merită să-l aveți.
Filmul, sau toată seria, s-ar putea reduce la un citat de Ernest Hemingway: "

Nu există vânătoare precum vânătoarea de oameni, iar aceia ce au vânat oameni înarmați destul de mult timp și le-a plăcut, nu vor mai fi interesați de nimic altceva după aceea.

"
Cu siguranță ați văzut pe la televizor o grămadă de burtoși ce împușcă animale cică, spun ei, pentru sport (dacă ar fi din cauza foamei ar fi altceva). Și uite așa, ce ar fi dacă am transpune totul într-o lume imaginară unde niște creaturi extraterestre ar suferi de aceeași "boală"? Din punct de vedere al moralit
ă
ț

ii şi fair-play-ului, extratereştii par mai buni decât oamenii pentru că strâng la un loc tot felul de dubioși, criminali, mercenari sau indivizi căliți în tot felul de lupte din întreaga lume. Ii duc într-un loc din universul acesta și încep să-i hăituiască într-o arenă de luptă impusă. Vă sună cunoscut?
Însă vânătorii nu sunt la fel, apar divergențe, victimele încep să colaboreze (poate ați auzit de expresia onoare între hoți, criminali în cazul nostru), caracterele, viciile, obsesiile, dar și calitățile răbufnesc sub presiunea ororii situației în care se găsesc și indivizi care în situații diferite ar fi putut ucide cu zâmbetul pe buze, aici își regăsesc spiritul de sacrificiu, umanitatea, camaraderia și dorința de a face un bine semenului tău. Să nu exagerăm, unii sunt putrezi până în străfundul sufletului. Ei descoperă că vânătorii pot fi învinși, că nu sunt invincibili în ciuda diferenței fizice sau tehnologice. Dacă în primul film Arnold Schwarzenegger mai putea face apel la forța lui, aici nici nu poate fi vorba de forță brută, Adrien Brody fiind o treime din el. Extratereștrii sunt oricum mai mari, mai puternici decât noi și forța fizică devine o cantitate neglijabilă. Inteligența vânătorului este cea care va conta, şi de aceea v-am spus în comentariul despre Jocurile Foamei că eroina principală nu ar fi trebuit să aibă probleme ținând cont de mediul unde se desfășura lupta. Iar dac
ă

inteligența este cea care primează, dictonul vechi de când lumea Luptă sau fugi este prezent și perfect aplicabil. Va scăpa oare cineva? Urmăriți-l și veți afla.
Pelicula a vrut să fie un omagiu adus primului film al seriei, fiind construit pe același tipar, chiar și aceeași coloană sonoră a fost folosită aici. Este bine condus, tensiunea se acumulează într-un crescendo dozat, fără introduceri plictisitoare sau explicații fără rost, totul pe fundalul unui suspans permanent. Scenele de luptă sunt alerte și surprizele apar când nu te aștepți. Un adevărat film de acțiune.
Despre actori, în afară de Adrien Brody, i-aș putea aminti pe Laurence Fishburne, Danny Trejo, Alice Braga sau Topher Grace.
Cine o să-l câștige, o să poată face o comparație între el și The Hunger Games din punct de vedere a ceea ce înseamnă hăituirea unor oameni și lupta pentru supraviețuire. Ce e mai important, este că nu o să vedeți scene de violență cu copii. Contează?
Dacă vreți DVD-ul Predators, tot ceea ce trebuie să faceți este să urmăriți Mythical Books via GFC şi să completați formularul de mai jos.
a Rafflecopter giveaway
Castigatoarea este
Stefana Alexandra